Implant Retained Dentures Rebuild Viera Smiles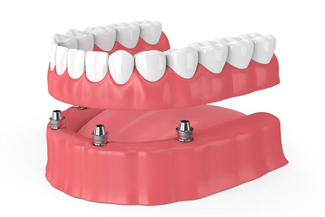 If you have suffered extensive tooth loss, you're well-familiar with the daily struggles that come with an incomplete set of pearly whites. You may have trouble eating your favorite foods, and you may be embarrassed by the way your smile looks. Fortunately, you might be able to fill in those gaps, regain your confidence, and improve your oral health with implant retained dentures in Viera.
What Is an Implant Retained Denture?
A traditional denture is secured in the mouth via natural suction or with the help of a special. An implant retained denture, on the other hand, is anchored in place via small titanium posts that an oral surgeon inserts at strategic locations throughout the jawbone; you may need as few as four dental implants to support an entire arch of artificial teeth. Implant retained dentures may be either fixed or removable.
Implant retained dentures a number of significant benefits:
They are very sturdy, enabling their wearers to eat almost anything.
They have the potential to last a lifetime, whereas traditional dentures may need to be replaced every five to eight years or so.
They look natural and feel comfortable.
They will not slip or click while you're eating or speaking.
Since implants help to preserve the jawbone's strength and density, they can help to preserve the natural shape of your face.
How Should You Care for Implant-Retained Dentures?
In order to protect yourself from infection and maintain a fresh, healthy mouth, oral hygiene is vital if you have an implant-retained denture. Fortunately, caring for your new teeth should be fairly simple. If your denture is removable, you'll need to take it out each day and gently clean it; you may also have to soak it in a special solution. If your denture is permanently in your mouth, you'll be able to brush it in much the same way that you used to brush your natural teeth. However, you'll have to be diligent about remembering to floss underneath your denture.
Who Is a Candidate for Implant Retained Dentures?
If you have lost all or most of your teeth, have fair oral and overall health, and do not smoke, there is a good chance that you will be able to benefit from implant retained dentures. However, you'll have to schedule a consultation with your dentist in Viera to find out for sure whether this tooth replacement treatment is right for you.
How Much Do Implant Retained Dentures Cost?
The total cost of implant retained dentures varies from case to case, but you can reasonably expect to pay at least a few thousand dollars for your restored smile. When you come in for your consultation, our team will crunch some numbers with you and help you figure out whether your medical or dental insurance will cover at least a portion of the price of your implants and/or your new denture. Although this tooth replacement method presents a significant upfront cost, the many long-term benefits it offers make it a worthwhile investment!