Porcelain Veneers & Lumineers Revitalize Smiles in Melbourne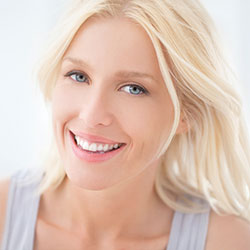 Patients wishing to conceal chips, gaps, stains, and misalignments often turn to porcelain veneers or Lumineers for breathtaking results. Porcelain veneers and Lumineers are high-quality, all-porcelain dental restorations that completely transform smiles in just two visits. Many patients refer to porcelain veneers as "instant orthodontics," because they're a popular (and fast) alternative to traditional metal braces.
Porcelain veneers and Lumineers are very similar treatments. They involve thin sheaths of porcelain that cover the surface of teeth. Both restorations are made using layers of the finest porcelain and can be customized according to your needs (tooth shape, size, and color can all be altered). The difference is that Lumineers brand veneers are slightly thinner than traditional veneers – about the thickness of a contact lens – and can sometimes be placed with little to no tooth preparation.
You may be wondering whether Lumineers or traditional porcelain veneers are right for your smile. Using cosmetic imaging and diagnostic wax mock-ups, Dr. Chenet can help you visualize and decide which restoration will give you the best possible result at your cosmetic dentistry consultation. While Lumineers allow patients to return to their original smiles in the future, they can only be used in specific circumstances. Whether you choose porcelain veneers or Lumineers, you'll love your new flawless smile.
Placing Porcelain Veneers in Melbourne
The process required to place porcelain veneers is slightly more involved than that for Lumineers. This is because your teeth must be altered to accommodate the thickness of veneers. To prepare your teeth, Dr. Chenet will need to file away a slim layer of enamel, the outermost surface of each tooth that will have a veneer. Doing so not only makes room for the veneers, but it also roughens up your tooth. With a rougher surface, you tooth is more receptive to the adhesive that will be used to bond the veneers in place.
After this preparation phase, we'll take an impression of your teeth that our office will use to create a set of temporary acrylic veneers. These will protect your teeth while the ceramist in our cosmetic dental lab handcrafts your permanent set. The temporaries will also give you some "practice time" so you can adjust to the feeling of veneers before your custom ones are placed.
At the second of your two visits for veneers, you will receive your new smile. Dr. Chenet will first carefully examine each one to make sure it is a perfect match to the corresponding tooth. Your veneers are individually designed to be appropriate for each specific tooth's size and shape. Once certain, Dr. Chenet will bond your new porcelain veneers into place.
A New Smile with Lumineers in Melbourne
While Lumineers offer the same smile transformation as standard porcelain veneers, they do not require the same tooth preparation. Because they are even thinner than veneers, Lumineers can be placed directly onto the enamel surface of each tooth. And if there is ever the need, Lumineers can be removed and your teeth will still be in fine condition.