Teeth Whitening for the Melbourne, FL Area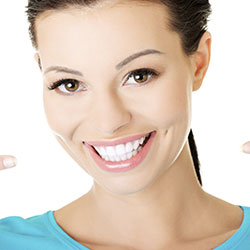 Stained teeth can drain your self-confidence and prevent you from sharing an otherwise beautiful smile. Luckily, we can remove years' worth of built-up stains with professional teeth whitening. Dr. Chenet and our staff are well-versed in the latest teeth whitening methods and can remove stains caused by a variety of factors, including coffee, tobacco, medications, and aging.
Our most popular methods of teeth whitening include Zoom! Whitening and take-home trays. Zoom! Whitening is a simple, one-visit procedure that lightens teeth up to eight shades. With Zoom!, we apply a bleaching gel to your teeth and activate it with a no-heat lamp. Relax and listen to music or watch TV, and in about an hour, you can enjoy a bright, stain-free smile.
Take-home whitening involves custom-made trays that you wear in the comfort of your own home. Unlike over-the-counter trays and strips, these trays will be form-fitted to ensure consistent and safe results. The bleaching solution we provide contains a lower concentration of peroxide ( bleaching agent) than the Zoom! formula but a higher concentration than drugstore whiteners. In just a couple of weeks, take-home whitening can lighten your teeth up to eight shades.
Dr. Chenet and our team will consult with you to determine which method of whitening is right for you. Some patients prefer the convenience of Zoom!, while others prefer a more gradual approach and the financial savings of take-home trays. We offer several brands and methods of teeth whitening, and will recommend the system that best suits your lifestyle, budget, and the types of stains you have.