Melbourne Emergency Dentist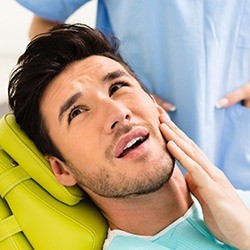 At the Melbourne dentistry practice of Cedric C. Chenet, DDS, we are here to help patients whenever they need us most, and that includes dental emergencies. In most cases, we're able to see patients in need of urgent care on the same day they contact us. If you're in need of immediate dental care, don't wait. Call our Melbourne dentist and team to get started repairing your smile right away.
What is a Dental Emergency?
If you think your situation is an emergency, chances are, you're correct. We encourage our patients to reach out to us immediately. We can help you determine whether or not your dental concerns require immediate treatment, but it's always best to get started repairing smiles right away. Some of the most common dental emergencies we treat include:
Broken teeth or dental restorations
Knocked out teeth or dental restorations
Broken or bent dentures
Objects stuck between teeth
Severe toothache or dental sensitivity
What Should I do During a Dental Emergency?
The first thing you should do during a dental emergency is give Dr. Chenet and his Melbourne dental team a call. We will walk you through at-home first aid and pain management steps to ensure you are safe and comfortable until you reach our office. Some of the basics you can keep in mind include:
Keep the damaged area or any pieces of your tooth or dental restoration clean, using cool water to rinse off the oral structures. You should not use any oral hygiene products or scrub the damaged tissues.
Use gentle pressure to slow bleeding. You can bite down on clean cloth or gauze to apply the necessary pressure.
For swelling, inflammation, or bleeding that won't slow with pressure, you can apply ice packs at 20 minute intervals (20 on and 20 off).
If you have any discomfort, take over the counter pain relievers as directed. Do not place an aspirin directly onto your tooth as this may lead to serious oral health concerns.
If you have foreign items stuck between teeth, use floss and brush to remove them. Don't use sharp objects as this may cause damage to the surrounding structures.
How Can Dr. Chenet Help?
When you call our office for emergency dental care, Dr. Chenet is here to help. In most cases, we can see you on the same day you call us to begin rebuilding your smile. Our first goal is to relieve any pain or discomfort. Then, we partner with you to make repairs right away. In many cases, we're able to restore your smile in just one visit. We offer one day tooth-colored fillings and single visit crowns, bridges, and other restorations using the state-of-the-art CEREC system.
Can I Prevent Dental Emergencies?
Not all dental emergencies can be avoided. However, there are a few changes you can make to dramatically reduce your risks for experiencing a dental emergency, including:
Brush teeth twice a day and floss daily to keep smiles healthy
Visit our team twice a year for dental checkups and teeth cleanings
Avoid using your teeth as tools to open packages or crack nuts
Don't chew on ice, pen caps, or other hard objects
Wear mouthguards as directed when engaging in sports or to protect teeth from nighttime teeth grinding and clenching