Melbourne Emergency Dentist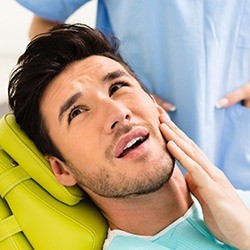 At the Melbourne dentistry practice of Cedric C. Chenet, DDS, we are here to help patients whenever they need us most, and that includes dental emergencies. In most cases, we're able to see patients in need of urgent care on the same day they contact us. If you're in need of immediate dental care, don't wait. Call our Melbourne dentist and team to get started repairing your smile right away.
What is a Dental Emergency?
If you think your situation is an emergency, chances are, you're correct. We encourage our patients to reach out to us immediately. We can help you determine whether or not your dental concerns require immediate treatment, but it's always best to get started repairing smiles right away. Some of the most common dental emergencies we treat include:
Broken teeth or dental restorations
Knocked out teeth or dental restorations
Broken or bent dentures
Objects stuck between teeth
Severe toothache or dental sensitivity
What Should I do During a Dental Emergency?
The first thing you should do during a dental emergency is give Dr. Chenet and his Melbourne dental team a call. We will walk you through at-home first aid and pain management steps to ensure you are safe and comfortable until you reach our office. Some of the basics you can keep in mind include:
Keep the damaged area or any pieces of your tooth or dental restoration clean, using cool water to rinse off the oral structures. You should not use any oral hygiene products or scrub the damaged tissues.
Use gentle pressure to slow bleeding. You can bite down on clean cloth or gauze to apply the necessary pressure.
For swelling, inflammation, or bleeding that won't slow with pressure, you can apply ice packs at 20 minute intervals (20 on and 20 off).
If you have any discomfort, take over the counter pain relievers as directed. Do not place an aspirin directly onto your tooth as this may lead to serious oral health concerns.
If you have foreign items stuck between teeth, use floss and brush to remove them. Don't use sharp objects as this may cause damage to the surrounding structures.
How Can Dr. Chenet Help?
When you call our office for emergency dental care, Dr. Chenet is here to help. In most cases, we can see you on the same day you call us to begin rebuilding your smile. Our first goal is to relieve any pain or discomfort. Then, we partner with you to make repairs right away. In many cases, we're able to restore your smile in just one visit. We offer one day tooth-colored fillings and single visit crowns, bridges, and other restorations using the state-of-the-art CEREC system.
Can I Prevent Dental Emergencies?
Not all dental emergencies can be avoided. However, there are a few changes you can make to dramatically reduce your risks for experiencing a dental emergency, including:
Brush teeth twice a day and floss daily to keep smiles healthy
Visit our team twice a year for dental checkups and teeth cleanings
Avoid using your teeth as tools to open packages or crack nuts
Don't chew on ice, pen caps, or other hard objects
Wear mouthguards as directed when engaging in sports or to protect teeth from nighttime teeth grinding and clenching
Emergency Dentistry FAQs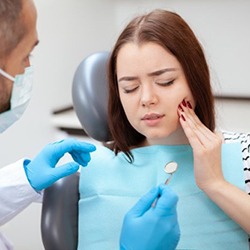 As your emergency dentist in Melbourne, Dr. Cedric C. Chenet and the rest of our team strive to get you out of pain as soon as possible when the unexpected strikes. We can provide you with basic tips over the phone to help you handle the situation until you can make it to our office. In the meantime, it might also help to read through this list of frequently asked questions about dental emergencies. Once you arrive for your appointment, we can answer any additional questions you may have.
Will My Dental Insurance Cover the Cost of My Treatment?
Depending on the type of emergency you're experiencing, your dental insurance should cover all or most of the cost. The majority of restorative dental procedures are covered at about 50-80%. Our practice is in-network with Delta Dental, but we'll be happy to look over any other plan to find coverage you're entitled to.
In addition to accepting cash, checks, and credit cards, we offer a dental savings plan as an alternative to traditional dental insurance. Instead of monthly premiums, you pay a low, flat annual fee that completely covers preventive care as well as emergency exams. You can get significant discounts on many restorative and cosmetic services, many of which are often not covered by insurance at all.
Should I Go to the Emergency Room?
In most cases, no. There are a few reasons why it's better to see a local dentist than it is to head to the nearest emergency room. They include:
Since your dentist already knows you, you won't have to spend time going over your medical history.
An emergency room doctor will typically just prescribe an antibiotic or painkiller and refer you to a dentist anyway. Visiting a dentist straight away will save you time and money. Plus, a dentist will actually address the root cause of your problem.
You won't have to spend hours waiting in a lobby full of sick people.
If you're experiencing profuse bleeding from the mouth, swelling that obstructs your airway, or severe facial trauma like a broken jaw, seek immediate medical attention at the emergency room. For all other urgent dental problems, come see us instead.
Do I Still Need to Keep My Appointment If My Toothache Goes Away?
Absolutely! Pain is your body's way of signaling that something is wrong. A toothache could indicate an underlying problem, such as decay or infection. Avoiding treatment could worsen this problem and cause you more pain down the line. It couldn't hurt to have our dentists take a look, just in case.
How Can I Prepare for a Dental Emergency?
You might not think a dental emergency will happen to you, but one out of every six Americans will face one each year. To ease the stress of this situation, it helps to be prepared ahead of time. Keep a dental emergency kit on hand with the following items:
Small bottle of ibuprofen
Our contact information
Gauze pads
Latex-free gloves
Saline solution
Small container with a secure lid