Children's Dentistry – Melbourne, FL
Outstanding Dental Care For Even the Littlest Smiles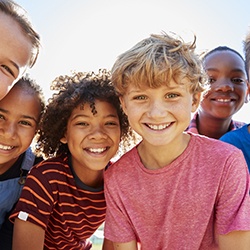 Dental care is important at every age, but that applies even more in the early years. Bringing your child in to see us every six months will help them avoid cavities and other dental problems from the start and lay the foundation for a lifetime of healthy smiles. If you'd like more information about your child's oral health or want to schedule an appointment, don't hesitate to give us a call. With two convenient locations and our outstanding team, you can count on high-quality care for even the littlest smile in your family!
When Should Your Child First Visit the Dentist?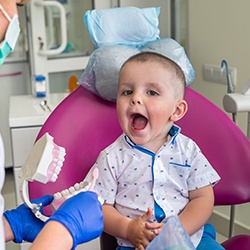 Based on recommendations from the ADA, we recommend scheduling your child's first appointment within six months of getting their first tooth or around their first birthday. One of our primary goals is to make that visit as fun and stress-free as possible and help them feel comfortable in our office. You're also welcome to bring your child to one of your own checkups first (or an older sibling's) to familiarize them with the environment.
Prior to ages three to five, these early checkups won't include a cleaning or X-rays. However, they're still very important so we can check for healthy development of the teeth and jaws and look for early signs of cavities and other issues. We'll also give you valuable information about caring for your child's teeth at home to prevent dental problems as they grow older.
Baby Bottle Tooth Decay Prevention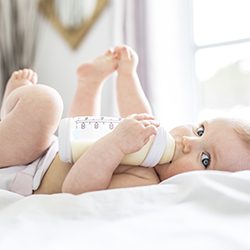 Baby bottle tooth decay refers to severe cavities that occur when children are given a bottle before naps or bedtime that contain sugary beverages like formula, milk, or juice. It can completely destroy all of a child's front teeth – sometimes all the way to the gumline. Kids need healthy baby teeth for many years to eat, speak, and smile, not to mention that they impact the permanent teeth as well.
Our team will look closely for signs of baby bottle tooth decay and give you the information you need to prevent it. This includes how to clean your child's teeth and gums, using a pacifier when possible (or a bottle with plain water), and the best way to use fluoride to prevent cavities by strengthening their teeth.
Preventing Cavities In Older Children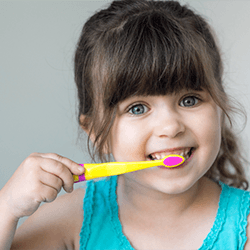 Cavities are common among kids, but they're also completely preventable with six-month checkups and good oral hygiene at home. Along with good brushing and flossing habits, it's also important to minimize snacking, especially with sugary foods and beverages like juice, soda, dried fruit, candy, cookies, etc. In addition, preventive treatments from us at the appropriate age go a long way towards helping kids avoid cavities.
Dental Sealants
Unfortunately, toothbrush bristles are too large to fit into the tiny pits and grooves on the back teeth, so even good brushing habits can't prevent all cavities. Sealants are thin layers of tooth-colored material that protect these areas from plaque and bacteria and have been found to prevent 80% of cavities in school-aged children.
We typically recommend the first set of four sealants around age five or six (when the first permanent molars come in). The procedure usually takes around 10 to 15 minutes per tooth and doesn't require being numbed.
Fluoride Treatments
Just like calcium strengthens the bones, fluoride is a naturally-occurring mineral that strengthens the teeth to prevents cavities. We recommend a professional treatment for kids at each checkup, typically starting around age four to five. These treatments take just minutes and are so effective at preventing tooth decay that they're usually covered 100% by insurance.