Meet Your Dentist- Viera, Fl
Cedric Chenet, DDS
Why I Became A Dentist- Dentistry With a World Wide Perspective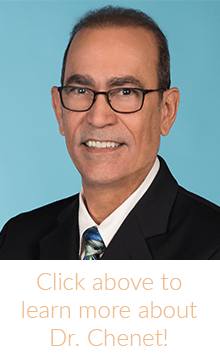 After attending Averett College in Virginia for his bachelor's of science degree, Dr. Chenet earned his DDS degree from Howard University in Washington, DC. He graduated in 1982, and that same year, he entered the US Air Force, serving as a dental officer. His assignments carried him across the nation and the world. He was deployed to such exotic locations as Japan, South Korea, Egypt, Honduras, Peru, El Salvador, Saudi Arabia, Alaska, and Haiti. His hands-on, post-graduate training covered the full scope of general dentistry, including periodontics, endodontics, prosthodontics, and pediatric dentistry. In December 2002, Dr. Chenet honorably retired as a lieutenant Colonel, and started his Melbourne practice from scratch shortly after.
Activities Outside of Dentistry
Dr. Chenet grew up in Port-au-Prince Haiti, speaks fluent French and Haitian Creole, and semi-fluent Spanish. He and his wife Katia have been married for 25 years, and they have three boys. Time with family and traveling (to visit family!) take top priority, leaving little time for hobbies. Unlike many of his peers, he doesn't golf, and he's not a fan of cold weather, so skiing is out of the picture. He has done some scuba diving and hunting (duck, dove, and quail). An interesting fact about Dr. Chenet: He was an animal rescue technician (AKA dog catcher) in New York City for a year before attending dental school. It was, in his words, "The most interesting job I've ever had."
State of the Art Dental Office serving Viera
At his current practice, Dr. Chenet embraces new technologies to enhance patient comfort and treatment. The practice is a fully computerized, high-tech office with digital X-rays (including Panorex), computerized records, and CEREC CAD/CAM system. His mission statement is short and to the point: "Where education, experience, and technology come together to provide excellence in dental health care."
With this state-of-the-art-practice, Dr. Chenet loves that he is able to help friends and neighbors smile. He welcomes patients from Melbourne to Rockledge and everywhere in between. Dr. Chenet is especially proud that almost half of his patients live in 32940- many within walking distance of our practice.