Walk-In Dentist – Melbourne, FL
Where High Quality Meets Convenience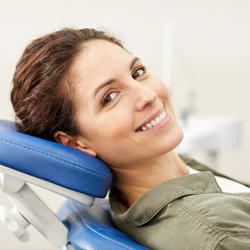 In today's world, it seems like schedules just keep getting busier and busier. It's hard to maintain your daily tasks, job, chores, family, and all of the appointments you have on your calendar. Everything is always getting moved around, which is why it can be difficult for many people to see their dentist. Thankfully, Dr. Chenet is happy to accept walk-in patients for all types of dental treatments. That way, you won't have to worry about making your schedule fit dental care. Instead, you can choose dental care that fits your schedule! Keep reading to learn more about your walk-in dentist in Melbourne!
The Benefits of a Walk-In Dentist
Having a quality walk-in dentist you can rely on is beneficial in various ways, which is why Dr. Chenet is happy to fit patients into his schedule in any way possible. The most significant advantage is that you won't have to preplan. How do you know if you're going to have a toothache a month from now? You don't, but Dr. Chenet will be ready to see you with exceptional treatment when the time comes.
Another significant advantage is confidence. Have you ever wanted to see your dentist but didn't even try due to scheduling concerns? Dr. Chenet's patients are his number one priority, which is why he is willing to work walk-in patients into his daily schedule to give you the care you deserve.
Additionally, accepting walk-ins will ensure that you can get care if you have a dental emergency. These problems can occur without any warning, causing serious pain and discomfort. However, Dr. Chenet is ready and able to treat you in your time of need. Simply call our office and we'll provide you with relief.
Treatment Options
Dr. Chenet has years of experience treating patients of all ages, which is why he offers a variety of dental services. Whether you're in need of restorative dentistry like dental crowns or bridges, or you're looking for dentures and TMJ therapy, we are here to help. Part of the convenience of seeing our walk-in dentist in Viera is that you can receive a range of treatments all at the same location.
Contact Us
Are you ready to experience the difference that a walk-in dentist can make? Don't hesitate to call our office to speak with one of our friendly front desk staff members if you have any questions. Otherwise, we'll see you at our office and greet you with happy smiles as soon as you walk in!