Affordable Dental Implants in Melbourne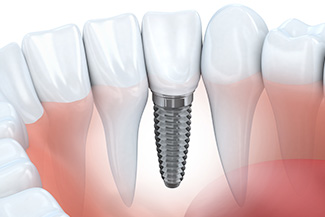 Dental implants in Melbourne offer a wonderful replacement option for people who are missing anywhere from a single tooth to an entire arch of teeth in the upper or lower jaw. They do, however, cost significantly more upfront than other options in tooth replacement. Fortunately, we can help you cut the cost of your dental implant procedure! Keep reading to find out how.
What's the Cost of Dental Implants?
The cost of your dental implants will depend on a few factors, like whether or not you need to have a bone graft procedure to create the right environment and of course how many teeth need to be replaced. To find out how much your dental implant procedure will cost, schedule an appointment with our office. We will talk about everything you need to plan for and also provide tips for making dental implants more affordable.
Here are the factors that can influence the cost of your dental implant procedure.
If you need to have a bone graft procedure before dental implants, this will add to the total cost of the procedure.
In general, the more teeth you are missing the more expensive it is to replace them with dental implants.
Front teeth can be more expensive to replace than those in the back of the mouth because the procedure is more complex due to aesthetic considerations.
Patients with metal sensitivities may require an alternative to titanium dental implants, which can cost more.
No matter the total cost of your dental implant procedure, you can feel confident knowing you are making a wise investment in your oral and overall health when you choose this comprehensive method. Nothing replaces teeth better than dental implants!
Does Dental Insurance Cover Dental Implants?
Even though dental implants are well-known as the most effective method of tooth replacement, they are still often not covered by dental insurance plans. Most insurance plans will require you to choose the least expensive alternative treatment (LEAT) option, which does not include dental implants. We will check your benefits to determine whether or not you can receive partial coverage. If so, we will be sure to help you maximize the savings.
Get Help With Convenient Patient Financing
Even if your dental insurance does not cover dental implants in Viera, you can use CareCredit financing to make convenient payments on any medical or dental procedure. We are happy to accept this method of payment, which works like a credit card you swipe at the time of your appointment and then gradually pay off at the predetermined rate that works best for you. Many patients are able to make their dental implant procedure fit comfortably in the budget when they opt for CareCredit. To learn more or find out whether or not you are approved for this option, visit CareCredit today.
Let's Talk About Dental Implants!
Dental implants are well worth the cost, and there are ways to lower that price when you partner with the restorative dentist Melbourne trusts. Request an appointment to discuss payment for dental implants today!