Root Canals - Comfortable Therapy for Tooth Infections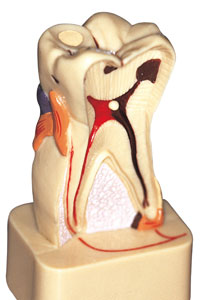 Many people quiver at the thought of a root canal, but it's actually a very conservative and comfortable procedure. A root canal removes bacteria from within the tooth and alleviates the pain caused by swelling and inflammation. Dr. Chenet has over 25 years of experience with root canals and performs them at our Melbourne, FL office, often in just one visit.
Injuries, cracks, and cavities left untreated can penetrate the inner layers of the tooth (the pulp) and create an infection. Bacteria kill the pulp and the canals of the tooth fill with diseased tissue. In the past, the tooth would have to be extracted and replaced with a prosthetic. Now, we have modern tools and techniques that allow us to repair the tooth, so it can serve you for the rest of your life.
During a root canal, Dr. Chenet uses small instruments to remove the infected pulp and clean out the canals. He places a rubberized substance in the canals to seal the tooth and prevent re-infection. Lastly, he may place a crown on the treated tooth, so the tooth is capable of withstanding normal biting pressures. After root canal therapy, the treated tooth can potentially last a lifetime.
In some cases, Dr. Chenet works with an endodontist (specialist in root canals) to provide root canal treatment. He will explain the reason for referral to a specialist if he recommends one in your case.