CEREC Dental Crowns for Melbourne Residents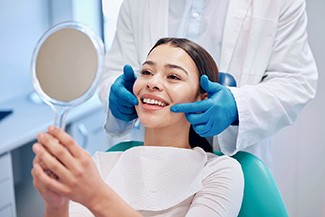 In the past, if you needed a cosmetic dental restoration (crown, veneer, inlay, or onlay), you had to wait weeks for it to arrive from the dental lab. If the lab technician somehow misread the doctor's instructions, then you would have to wait several more weeks for your final restoration to arrive again. Now, with CEREC 3D technology, Dr. Chenet and our team can create custom dental crowns in Melbourne, veneers, inlays, and onlays right in our Melbourne, FL dental office, in about an hour. CEREC cuts out the middleman and allows the dentist to custom design a restoration that's perfect for you.
What Are the Benefits of CEREC?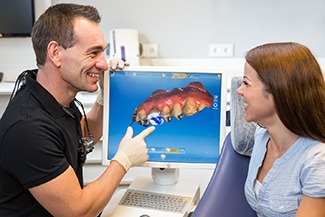 When it comes to deciding how you want to protect your weakened tooth, you will discover that the benefits provided by CEREC crowns make it possible to enjoy:
No messy impressions
No second appointment
No second shot!
Metal-free crowns
Precise color-matching
Predictable results
Longer-lasting restorations
How Does CEREC Work?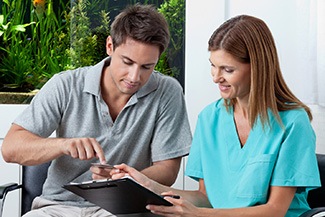 With CEREC, the dentist takes a 3D image of your tooth/teeth, which will then be transferred to a nearby computer that uses the CEREC software. This advanced technology designs a restoration that fits precisely and matches with your surrounding tooth color.
Over 25 years of research has gone into CEREC technology, and millions of patients have repaired their smiles with CEREC restorations.
Cost of CEREC Dental Crowns
The average cost of your CEREC dental crown is dependent upon your treatment plan. Every patient is different, so even if your family member paid a certain amount for their crown, it is highly unlikely that you will pay the same.
During your initial consultation with Dr. Chenet, you will receive a customized estimate that will include all factors that are considered for this type of treatment. At this time, you will also learn about available payment options and whether using your dental insurance will be possible.
If necessary, you can talk to a member of our staff who will be happy to work on your behalf, corresponding with your insurer to determine if your CEREC crown is covered and how much you can expect to pay out of pocket. Even if the remaining balance is too much, we can work with you to determine additional ways you can move forward with treatment without breaking the bank.