CEREC Dental Crowns for Melbourne Residents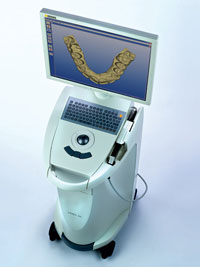 In the past, if you needed a cosmetic dental restoration (crown, veneer, inlay, or onlay), you had to wait weeks for it to arrive from the dental lab. If the lab technician somehow misread the doctor's instructions, then you would have to wait several more weeks for your final restoration to arrive again. Now, with CEREC 3D technology, Dr. Chenet and our team can create custom crowns, veneers, inlays, and onlays right in our Melbourne, FL dental office, in about an hour. CEREC cuts out the middle man and allows the dentist to custom design a restoration that's perfect for you.
With CEREC, the dentist takes a 3D image of your tooth/teeth, and then uses the CEREC software to design a restoration that fits precisely and matches with your surrounding tooth color. Made from solid blocs of ceramic, the CEREC restorations are extremely durable and aesthetic. Over 25 years of research has gone into CEREC technology, and millions of patients have repaired their smiles with CEREC restorations.
Benefits of CEREC:
No messy impressions
No second appointment
No second shot!
Metal-free crowns
Precise color-matching
Predictable results
Long-lasting restorations