Dental Implants Improving Melbourne, FL Smiles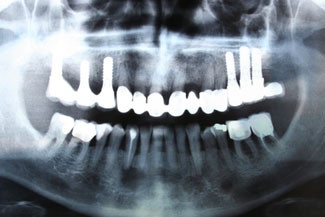 In the past, options to replace missing teeth were limited. Patients could choose from a removable partial denture or a fixed bridge. While these treatments provide esthetic and functional solutions, they do not address the long-term effects of tooth loss, such as bone deterioration. Dental implants are the only tooth replacement that closely mimics nature's design and offers long-lasting results.
A dental implant has two parts. The small, titanium anchor placed in the jaw bone serves as a man made tooth root. Attached to the new root, is a custom porcelain crown. This design allows the replacement tooth to function naturally, without depending on surrounding teeth for support. Over time, the jaw bone fuses to the titanium root, which promotes bone growth and provides a solid foundation.
Patients with dental implants don't have to worry about clasps or adhesives to secure their replacement tooth. In addition, the implant is designed to last for a lifetime, unlike bridges, partials, and dentures, which may need to be replaced periodically. If you're missing several teeth, Dr. Chenet can discuss implant-retained dentures or bridges. He will need to examine your medical history and your current oral status to determine if dental implants are right for you.
Families from throughout Melbourne and the surrounding communities trust Dr. Chenet and his team for all of their oral health needs, including complete tooth replacement. Dr. Chenet is an active member of the American Academy of Implant Dentistry (AAID) and has more than 30 years of experience in his field. He is your premier source for all restorative, cosmetic, and general dentistry services in the area.
Unlike many other offices, Dr. Chenet's practice offers both placement of dental implants and final restoration with beautifully crafted, custom-fitted crowns, bridges, and more. This means that you can receive your dental implants and your replacement teeth in one convenient location with the same familiar faces you've grown to know and trust here at our office. We can't wait to show you what an incredible difference our advanced technology, dedication, and commitment can make in your smile and in your life.