All-On-4 Implants – Melbourne, FL
The Ideal Dentures for a Completely Stable Smile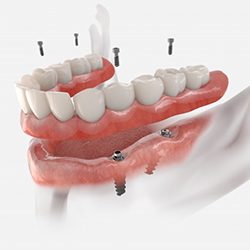 While traditional dentures are a tried and true treatment for replacing missing pearly whites, they aren't the only solution for renewing your smile. If you have an entire arch of teeth that needs replacements, implant dentures may be your best choice. Still, some patients don't always have sufficient jawbone density to support dental implants. If this is the case, our team does have an alternative option. With All-On-4 dental implants, you can get the stable dentures you deserve for a complete grin. Keep reading to learn more about this treatment or give us a call to schedule your consultation!
How Do All-On-4 Implants Work?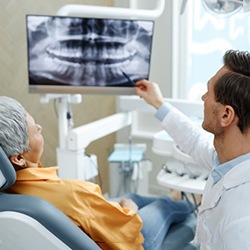 All-On-4 implants involve dentures that are anchored to your jawbone via titanium posts instead of the natural suction with your gum line. The dental implants will be designed and placed to properly integrate with your bone tissue, creating the stable and lifelike foundation needed to keep your new teeth in place.
Traditional implant dentures typically require sufficient jawbone density to support them. Without enough bone structure and mass, you could run into complications like jawbone deterioration and further tooth loss, which usually needs preliminary services to fix, such as bone grafting. However, if you don't to spend more time or money on these procedures, you might be eligible for All-On-4 implants, which only place four titanium posts on the thickest parts of your jawbone to support your dentures.
Am I a Candidate for All-On-4 Implants?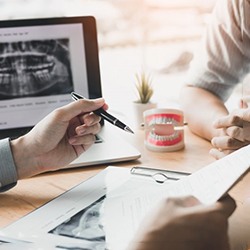 If you don't have enough jawbone mass to support implant dentures, then you might still be a good candidate for All-On-4. This option usually doesn't need that much jawbone density to work. That said, you'll still need to have good oral and overall health, especially since you'll undergo minor oral surgery. Once any underlying problems have been addressed, such as cavities and gum disease, and we've determined that you're eligible for dental implants, we can move forward with your treatment plan.
Benefits of All-On-4 Implants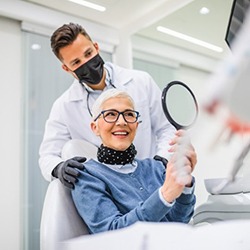 With dental implants, you'll be able to rebuild your missing teeth from the top down. This means you can be sure to enjoy a range of benefits to your smile, such as:
Regain 80% or more of your natural bite
Prevent jawbone deterioration
Ability to look, feel, and function like natural pearly whites
No slipping or moving out of place
A solution that can last a lifetime
All-On-4 vs. Traditional Implants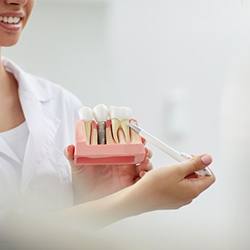 Compared to traditional dental implants, All-On-4 comes with a unique set of advantages that you just can't beat, including:
The potential to skip preliminary procedures such as bone grafting or a sinus lift
Fewer dental implants are necessary, meaning a quicker process and recovery
The possibility of receiving your new denture on the same day you have your implants placed