Custom Dentures - Teeth Replacement in Melbourne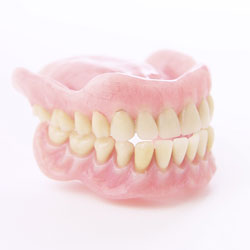 Tooth loss is a very common occurrence. In fact, millions of Americans have lost all of their teeth. If you've lost teeth due to accident, injury, disease, or other factors, your quality of life doesn't have to suffer. Dr. Chenet makes custom dentures – not to be confused with "shoebox" dentures – that fit comfortably and look natural. With custom dentures from Dr. Chenet, you can eat, smile, and speak with confidence.
Not all dentists take the time to make dentures that really fit, really function, and really look natural. Dr. Chenet has over 25 years of experience with prosthetics (replacement teeth), coupled with a genuine concern for our patients' health and well being. He consults with our patients, takes precise measurements, works closely with the laboratory, and involves the patient in the final denture design. Although dentures will never replace your original teeth, custom dentures will allow you to lead a more active and healthy lifestyle.
Dr. Chenet will discuss your options in great detail. He may suggest a partial denture, full denture, or implant-supported denture, depending on your circumstances. After a personal consultation, he will guide you to the appropriate solution for your smile and lasting oral health.