Dentures – Melbourne, FL
Complete Your Smile with Dentures
Tooth loss is a very common occurrence. In fact, at least 35 million Americans have lost all their teeth. Whether they are missing as the result of an accident, injury, disease, or another factor, your quality of life doesn't need to suffer. Dr. Chenet makes custom dentures in Melbourne that fit comfortably and look natural. You can eat, smile, and speak with confidence knowing your dentures closely replicate your natural teeth.
What are Dentures?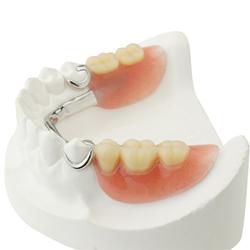 Dentures are the most traditional treatment to replace several or all your missing teeth. Custom-made prosthetic teeth are attached to a gum-colored base that's held in place using one of many methods, such as an adhesive. Although they have a bad reputation for being bulky or looking fake, they are now more realistic than ever before. Dr. Chenet uses the latest innovations in dentistry to ensure a comfortable, functional, and natural-looking denture.
What are My Options?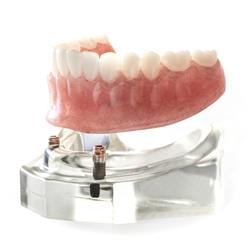 Dr. Chenet will discuss your options in great detail. After a personal consultation, he'll guide you to the appropriate solution depending on your circumstances, which may include:
Partial Denture: If you still have a couple of natural teeth, you may be a candidate for a partial denture, which is designed to fill the empty spaces in your smile. The gum-colored base is attached to a metal framework. This allows it to clip or clasp onto your remaining teeth.
Full Denture: Chenet takes an impression of your mouth to create an acrylic base to hold your replacement teeth. It's held to your gum tissue using suction or an adhesive.
Implant-Supported Denture: Dental implants are strategically placed into your jawbone to secure your denture. You'll never need to worry about any slipping or irritation.
What are the Benefits of Dentures?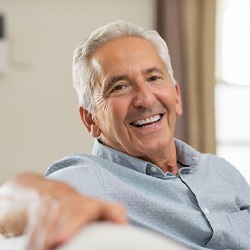 Tooth loss creates more than just aesthetic concerns. It also causes new challenges that can impact your quality of life. Not to mention, your oral and general health can also suffer. You can invest in the benefits of a complete smile with dentures. Overall, you'll enjoy:
Natural-looking appearance.
Eat a balanced diet.
Restore your confidence.
Supports your facial tissues.
Look younger.
Cost-effective.
Who is a Candidate for Dentures?
Anyone who has lost several or all their natural teeth are often candidates for dentures; however, you still need a consultation with your dentist in Melbourne. Dr. Chenet evaluates your oral health and discusses your preferences to create a customized treatment plan to rebuild your smile.
How Long Will It Take to Adjust to Dentures?
It will take a few days for you to adjust to your dentures. To make the transition easier, it's best to wear your dentures as much as possible to practice speaking, chewing, and smiling. Dr. Chenet recommends you stick to softer foods until you adjust to your dentures. Don't forget to take the time to care for your new smile every day to ensure it lasts for many years.
Schedule Your Consultation
Although dentures will never replace your original teeth, you can enjoy a more active, healthy, and confident lifestyle by treating your tooth loss. Contact our office today to schedule your consultation for a complete smile.