Dentures – Melbourne, FL
Complete Your Smile with Dentures
Tooth loss is a very common occurrence. In fact, at least 35 million Americans have lost all their teeth. Whether they are missing as the result of an accident, injury, disease, or another factor, your quality of life doesn't need to suffer. Dr. Chenet makes custom dentures in Melbourne that fit comfortably and look natural. You can eat, smile, and speak with confidence knowing your dentures closely replicate your natural teeth.
What are Dentures?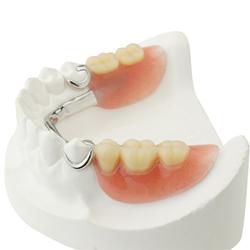 Dentures are the most traditional treatment to replace several or all your missing teeth. Custom-made prosthetic teeth are attached to a gum-colored base that's held in place using one of many methods, such as an adhesive. Although they have a bad reputation for being bulky or looking fake, they are now more realistic than ever before. Dr. Chenet uses the latest innovations in dentistry to ensure a comfortable, functional, and natural-looking denture.
What are My Options?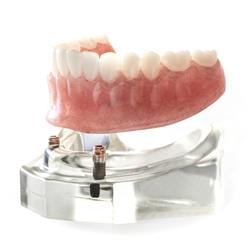 Dr. Chenet will discuss your options in great detail. After a personal consultation, he'll guide you to the appropriate solution depending on your circumstances, which may include:
Partial Denture: If you still have a couple of natural teeth, you may be a candidate for a partial denture, which is designed to fill the empty spaces in your smile. The gum-colored base is attached to a metal framework. This allows it to clip or clasp onto your remaining teeth.
Full Denture: Chenet takes an impression of your mouth to create an acrylic base to hold your replacement teeth. It's held to your gum tissue using suction or an adhesive.
Implant-Supported Denture: Dental implants are strategically placed into your jawbone to secure your denture. You'll never need to worry about any slipping or irritation.
What are the Benefits of Dentures?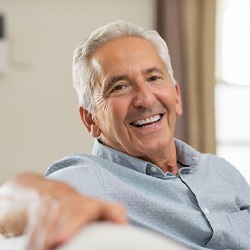 Tooth loss creates more than just aesthetic concerns. It also causes new challenges that can impact your quality of life. Not to mention, your oral and general health can also suffer. You can invest in the benefits of a complete smile with dentures. Overall, you'll enjoy:
Natural-looking appearance.
Eat a balanced diet.
Restore your confidence.
Supports your facial tissues.
Look younger.
Cost-effective.
Who is a Candidate for Dentures?
Anyone who has lost several or all their natural teeth are often candidates for dentures; however, you still need a consultation with your dentist in Melbourne. Dr. Chenet evaluates your oral health and discusses your preferences to create a customized treatment plan to rebuild your smile.
Understanding the Cost of Dentures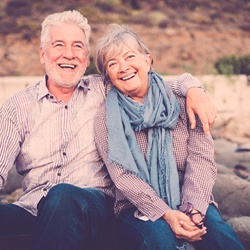 Dentures can vary in cost depending on a few key factors based on your needs. No matter what type of denture you need or the level of tooth loss you're trying to resolve, our dentists are happy to speak with you directly to not only meet your dental concerns, but your budget as well. Read on to learn more about the most important factors that affect the cost of dentures in Viera and more.
Factors That Affect the Cost of Dentures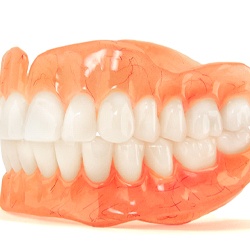 While there are many factors that can impact the cost of dentures, some of the most notable include:
Preparations needed before dentures can be worn (i.e. decay removal, gum disease therapy, extraction of existing teeth, etc.)
Acrylics used to create the gum-colored base of the denture (for the best esthetics possible, you'll need to pay more)
Materials used to create the replacement teeth (typically made from either acrylic or porcelain)
If you want your denture to be as durable and lifelike as possible, you'll need to cover higher costs. However, thinking of dentures as a long-term investment is worth considering as you'll be wearing it inside your mouth for most of the day!
Are Implant Dentures More Expensive?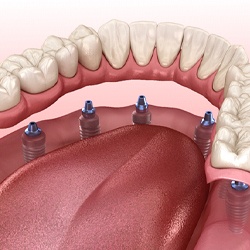 Generally, implant dentures are going to be more expensive because they require the surgical placement of dental implants beforehand. An implant denture attaches to a series of dental implants, which are essentially titanium post designed to mimic tooth roots. This means your denture can be more permanent, natural-feeling, and more comfortable to use. It also means you won't have to worry about a shifting denture or making changes in your diet to accommodate them. While they can be far more expensive, most people seem them as an investment in their long-term oral health worth making.
Does Dental Insurance Cover Dentures?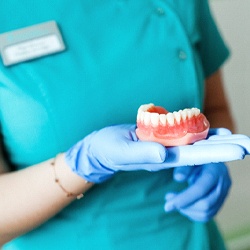 Dentures are a major dental treatment according to most dental insurers, which means you can expect their plans to offer some level of coverage for your tooth replacement. In most cases, they provide up to 50% coverage. However, this largely depends on the plan you have. While they are likely to be covered, it's not guaranteed. Our team members would be happy to help you maximize any benefits that you have before you begin your treatment plan.
Other Options for Making Dentures Affordable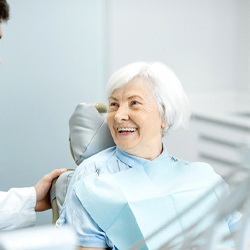 If you don't have a dental insurance plan to rely on, you can take advantage of other financing options to pay for your denture. For example, it's common for patients to enroll into a third-party financing plan from CareCredit, especially if they're considering implant dentures. This allows you to make payments on dental services over a longer period of time with little to no interest attached.
Alternatively, you can explore our in-house dental savings plan to get discounts not only on preventive services, but restorative treatments as well!
If you'd like to learn more about your financing options to pay for dentures, please give our office a call to schedule a consultation.
Dentures FAQs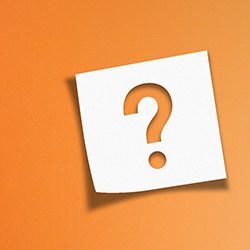 Are you considering dentures to rebuild your smile? Not sure what to expect after you receive one? No matter what questions you have or how many, we want to help you stay as informed as possible ahead of your next appointment with Dr. Chenet and his team. Below, you'll find many of the most common questions we've heard over the years regarding dentures, so feel free to give them a look before you arrive. If yours isn't mentioned, we'd love to help!
How Long Will You Have to Wait to Get Dentures After Your Teeth are Pulled?
The average wait time to receive a denture after teeth are extracted is around six to eight weeks. However, this time period can vary based on the type of denture you're receiving. We recommend this wait time because we want to ensure the gums have a chance to heal fully as well as make sure the denture fits properly. If you plan to get an implant denture, you will need to wait about four to six months for your implants to fuse with your jawbone tissue before receiving a prosthetic.
Can I Sleep with My Dentures?
Before you go to bed, you should remove your denture. The only exception to this rule is when you first receive it. You'll be asked to wear it for about 24 hours. After that initial period, you'll need to take it out every evening because it can restrict the circulation in your gums. This can cause soft tissue irritation and even speed up the resorption of the ridge. By taking them out, you give your gums a chance to recover and absorb the nutrients they need at night. Additionally, the dark space underneath the dentures is an ideal area for bacteria to thrive. It's one of the reasons why sleeping with dentures has been associated with conditions like pneumonia. You can also develop higher levels of gum and tongue plaque when wearing your denture for too long.
Is It Hard to Talk with Dentures?
It will take a few days for you to adjust to your dentures since you are likely so used to speaking with your natural teeth. The exact amount of time it will take depends on the type of denture you receive and varies from person to person. To make the transition easier, it's best to wear your dentures as much as possible to practice speaking, chewing, and smiling. This should make the adjustment process go by faster.
Speak slowly to start as fast speech can come out muffled if you're not used to wearing a denture. It's common to lisp with dentures at first due to changes in your palate. After you correct these changes, it should slowly disappear. Try to bite down and swallow before you talk if your dentures begin to shift while you speak. This will help keep them in their correct position.
Dr. Chenet recommends you stick to softer foods until you adjust to your dentures. Don't forget to take the time to care for your new smile every day to ensure it lasts for many years.
Schedule Your Consultation
Although dentures will never replace your original teeth, you can enjoy a more active, healthy, and confident lifestyle by treating your tooth loss. Contact our office today to schedule your consultation for a complete smile.