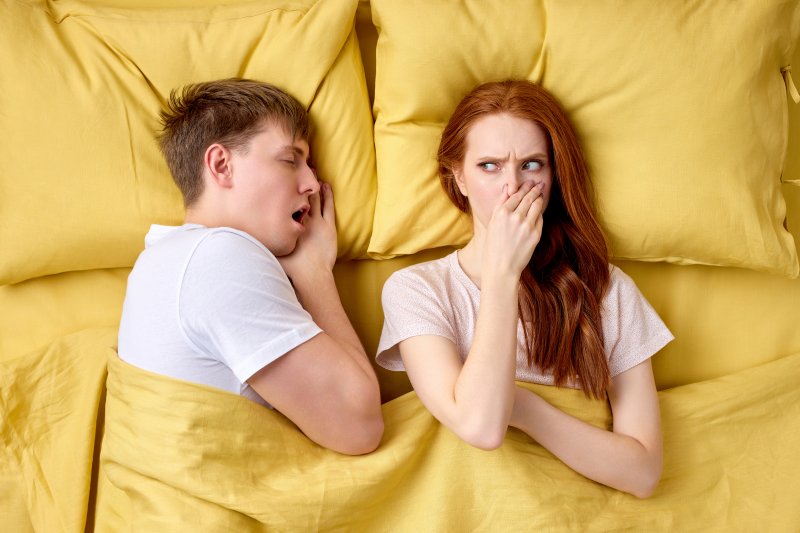 After waking up from a restful sleep, you go to have breakfast with your family. When trying to say, "Good morning," you suddenly notice an unpleasant smell coming from your mouth. Although brushing your teeth and tongue helps, you might wonder why this started in the first place. Read on to learn the common causes of morning breath, several prevention tactics, and how your dentist can help!
4 Common Causes of Morning Breath
If you experience a bad odor on your breath, it could be due to the following reasons:
Poor oral hygiene: This is the main contributor to a bitter taste in the mouth after waking up. Without properly brushing and flossing your teeth before sleeping, any bacteria can end up feeding and accumulating on your pearly whites, gums, and tongue. Once morning comes, you can often taste and smell an unfavorable odor on your breath.
Pungent foods: Ingredients like raw onions and garlic can often linger in your mouth even after you've finished your oral hygiene routine.
Tobacco products: Using tobacco products can certainly increase your chances of developing bad breath. Smoking or chewing these items can dry out your mouth and make your smile more vulnerable to periodontal disease.
Dry mouth: If you practice solid oral hygiene and still notice a bad odor on your breath, then dry mouth may be the culprit. This means you might not be producing enough saliva, which is essential for naturally washing away smelly bacteria. This is further decreased while you sleep, resulting in a nasty odor and taste.
4 Tips for Preventing Morning Breath
To avoid struggling with morning breath, here are a few preventive measures to implement right away:
Drink plenty of water throughout the day to stay hydrated and rinse out any bacteria in your mouth.
Brush, floss, and rinse with antibacterial mouthwash right before bed.
Stay away from pungent meals and beverages (like garlic and coffee), especially before sleeping.
Quit using tobacco products.
How Can Your Dentist Help?
While the above prevention tactics can help alleviate bad breath, they aren't the only solution to the problem. If your condition is caused by untreated dental decay or infection, then only your dentist can help eliminate the issue. During your visit, they'll thoroughly examine your mouth, identify the root cause, and review your treatment options. This way you can receive the effective and long-term solution necessary for good oral health.
Morning breath can be an unfavorable experience for you and others around you. With these few preventive methods and your dentist's help, you can resolve the problem and enjoy a fresh mouth in no time!
About the Author
Dr. Cedric C. Chenet earned his dental doctorate from Howard University in Washington, DC. He's also completed countless hours of continuing education to refine his skills so that his patients receive the best care they deserve. He provides a wide range of high-quality services, including dental checkups/cleanings, gum disease therapy, and root canals. If you'd like to schedule an appointment, visit his website or call 321-253-3136.