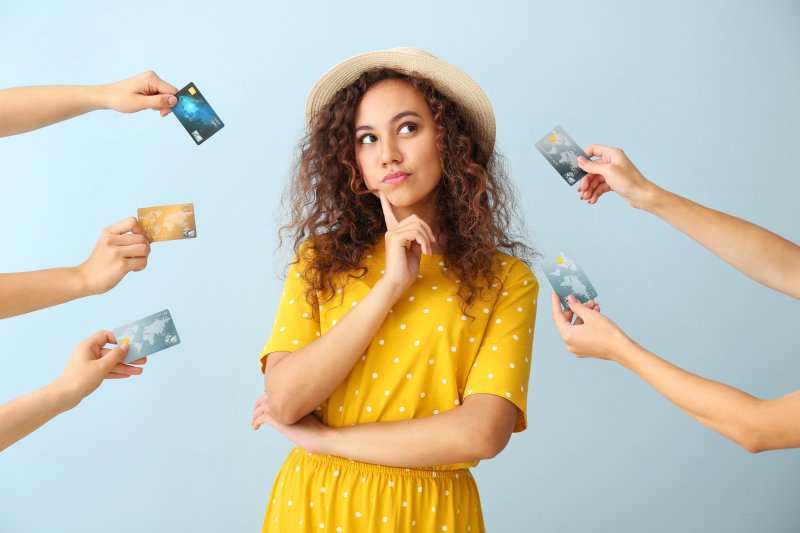 Are you eager to enhance your smile? Fortunately, in this day and age, you don't need to settle for teeth that you aren't happy showing off. There are a variety of cosmetic treatment options available that can improve the appearance of your pearly whites. However, one concern you may have regarding cosmetic dentistry is the cost. The truth is that there are many affordable cosmetic treatments out there, and there are a variety of financing options available. Read on to learn more.
Which Cosmetic Dental Treatments Are Affordable?
There are several different cosmetic dental treatments out there that won't break the bank. Here are some of your options:
Teeth whitening: Professional teeth whitening is one of the most affordable and common types of cosmetic dental treatments out there. You see over-the-counter whitening kits all over the place, but they aren't nearly as good as professional whitening. Your treatment is custom-made by your cosmetic dentist to be perfectly suited for your teeth, leaving you with beautiful results.
Composite bonding: For minor imperfections, like chips, gaps, and stain, your dentist can use a composite resin in order to fix them. This is molded to the teeth and a special light is used to harden it into place. This procedure is non-invasive and can typically be done in a single appointment.
Dental crowns: If you have a tooth that is either decayed or damaged, your dentist might be able to protect it with a dental crown. These are tooth-like covers that are placed over the tooth. They are natural looking and keep the compromised tooth from experiencing further damage.
What Are Your Financial Options?
If you are still worried about being able to afford cosmetic dentistry, you should know that you have options! You may be able to get your treatment through the use of a third-party medical financing option, like CareCredit. Some practices also offer in-house dental savings plans to help patients who do not have dental insurance. This helps to take care of preventive care and can even provide you with discounts on cosmetic dental treatments. Feeling confident about your smile shouldn't mean breaking the bank!
You don't need to be loaded with money to improve the appearance of your smile, just talk to your dentist. This way, you can create a treatment plan that can fit into your budget!
About the Author
Dr. Cedric Chenet is an experienced dentist who has been working in the field for well over three decades. After earning his Doctor of Dental Surgery degree from Howard University in Washington, DC, he entered the US Air Force, serving as a dental officer. In 2002, Dr. Chenet honorably retired as a lieutenant Colonel and started his Melbourne practice from scratch shortly after. To learn more about cosmetic dentistry and your financial options or to schedule an appointment at his office in Melbourne, visit his website or call (321) 253-3136.