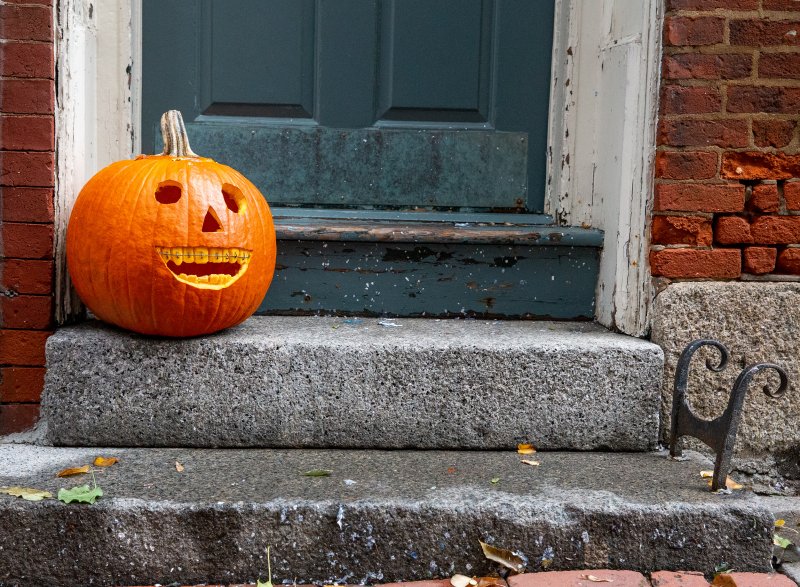 If you're looking to have a spooktacular time this Halloween without compromising your oral health, it can be a bit tricky and not so treaty. Candy and sugar are such a staple of the Halloween tradition that it almost seems like a crime not to indulge. Don't panic, your friendly neighborhood dentist has you covered.
If you want to enjoy Halloween night without haunting your teeth, continue reading. You'll find tips for keeping your fangs cavity-free.
Eat Candy with Meals
When enjoying Halloween candy, consider having it with your regular meals rather than snacking throughout the day. This ghoulishly simple approach can help reduce the frequency of sugar exposure to your teeth.
Eating candy with meals increases saliva production, which can help wash away sugar and acids while neutralizing the pH level in your mouth. Besides, who hasn't dreamed of eating candy for dinner?
Be Picky About Your Candy Choices
Not all Halloween candies will have the same impact on your teeth. Some are less sinister than others. Choose candies that are less sticky and won't stay in your mouth as long. The amount of sugar isn't as pertinent to teeth as the amount of time it stays on your pearly whites. Plain chocolate bars or sugar-free gum are fantastic alternatives.
Drink A Scary Amount of Water
Water is your best fiend on Halloween. Staying well-hydrated throughout the day and drinking water after indulging in Halloween treats. Water helps rinse away sugary residues and acids that can lead to tooth decay. Keep a water bottle handy during your Halloween adventures.
Have Non-Candy Options Available
If you're hosting Halloween festivities, consider offering non-candy alternatives as treats. These can include small toys, stickers, pencils, or other fun surprises. Not only will this be a hit with kids, but it will also reduce the overall sugar intake throughout the night.
Brush and Floss Before the Witching Hour
Before heading to bed after a night of frightful fun, make sure to brush your teeth for at least two minutes and floss thoroughly. This will remove any residual sugar, plaque, and sticky leftovers, reducing the risk of cavities. It's the best way to ensure that your smile remains spook-free.
By making smart choices, you'll be free to enjoy the treats of Halloween night without giving your dentist a fright. After all, Halloween should be all about fun and surprises, not haunting dental problems. However, if things get too scary in your smile, your dentist will be there to offer comfort and guidance.
About the Practice
At Cedric C Chenet DDS PA, their team of passionate and professional dentists uses advanced dental technology and techniques to serve you better. Their friendly staff is here to support you through your entire treatment, helping you understand everything you need to know. To schedule an appointment, call (321) 253-3136 or visit the website to explore other services.