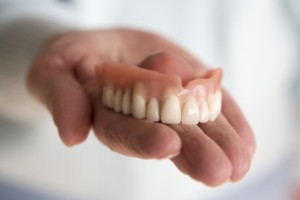 Dentures are one of the most popular tooth restoration solutions around. These prosthetics have totally changed the lives of countless generations of patients, as they're capable of providing awesome oral functionality while looking quite natural. That said, as great as dentures are, they unfortunately aren't meant to last forever, and after years of use they can often benefit from what's known as a reline. Here's more from your dentist about this process and some signs that you might benefit from it!
Why Denture Relines Are Necessary
If you have dentures, you were probably informed that they aren't intended to last forever; most patients can get between 5 – 10 years out of theirs, depending on their commitment to caring for them. But in all cases, denture relines are necessary every so often, usually once every two years.
A denture reline is a procedure meant to reshape the underside of a denture, so it fits more comfortably within a patient's mouth. This needs to occur because the shape of the jawbone actually changes over time if you have missing teeth, due to the lack of stimulation in that area. This means that if you wear dentures, even though they might've initially fit well, things are going to change over time.
There are two kinds of relining: soft relining, which tends to be more comfortable and quicker to perform, and hard relining, which is a little more nuanced. Soft relines are usually preferable by patients and dentists alike; using a liquid polymer material, your dentist can add depth to the denture to refit it for your mouth. Hard relines use a more durable material, but the process is virtually the same and results last much longer.
Signs That You Might Need a Denture Reline
You should contact your dentist about a possible denture reline if you're experiencing the following symptoms:
Your dentures feel loose and aren't comfortable to wear.
You're developing sores on your gums.
You're noticing cracks or warping in your dentures.
You're using more adhesive than usual to secure your dentures.
Your dentist can help you decide which reline you'll benefit from most once they've examined your situation. However, it's worth noting that sometimes a reline isn't able to fully restore compromised dentures, and they might need to be replaced entirely.
About the Author
Dr. Cedric C. Chenet received his DDS from Howard University and has proudly served patients and families in the Melbourne, FL community for several years. His practice is thrilled to offer a wide range of services including restorative options like dentures. If you have any questions about dentures or believe that yours need to be relined, don't hesitate to contact Dr. Chenet through his practice's website or over the phone for additional assistance. Telephone: (321) 253-3136.