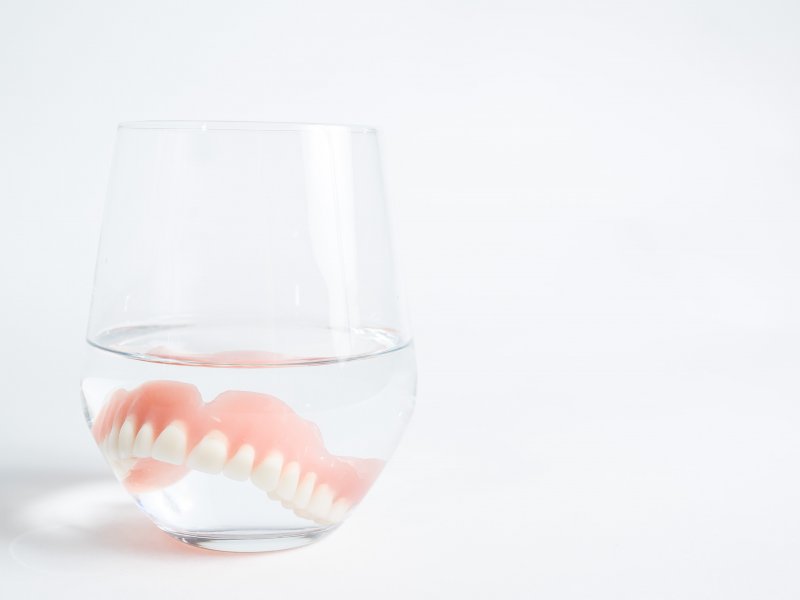 If you have dentures to replace missing teeth, you probably appreciate the way it makes you look and feel every day. With that in mind, you probably want your prosthetic to last for as long as possible.
To do that, you would do well to avoid certain bad habits that could potentially damage dentures if you aren't careful. Here are a few examples.
Avoid Scalding Hot Water
When you clean your dentures, there's a right and a wrong way to do it. You may be tempted to kill all the bacteria you can with boiling hot water. You might even want to try running your dentures through the dishwasher.
However, this is a bad idea. The acrylic that your dentures are made out of can warp when exposed to extreme temperatures, making them impossible to wear. When you rinse your dentures, be sure to do so with lukewarm water.
Stay Away from Household Products
In the vein of cleaning, it's also important to consider carefully the products that you use to clean your dentures. Specifically, it's a good idea to stay away from harsh household cleaners that aren't designed for your prosthetic, like bleach, as they can weaken the acrylic.
Instead, clean your dentures with products that are crafted specifically for the purpose. Soaking your dentures in a denture cleaning solution overnight can gently kill the bacteria that have built up over the course of a day, without the risk of damaging your dentures themselves.
Don't Leave Your Dentures In At Night
Finally, it's worth pointing out that it's important to take your dentures out to soak overnight. Dentures put a lot of pressure on your gums, and if you don't give them time to rest, you could start to develop sore spots.
Leaving your dentures in a soaking solution overnight also gives your dentures an opportunity to be disinfected, preventing any plaque buildup that may have happened over the course of a day.
About Our Practice
Welcome to the office of Cedric C. Chenet DDS, PA, where we value our interactions with our patients above all else. Dr. Chenet and his incredible dental team genuinely care about the well-being of their patients, which is why they take the time to understand everyone's unique needs. We then craft our patients a personalized treatment plan, incorporating both our understanding of the latest in oral medicine and the specific things that our patients require.
If you have any questions about how best to take care of your dentures, we can be reached at our website or by phone at (321) 253-3136.