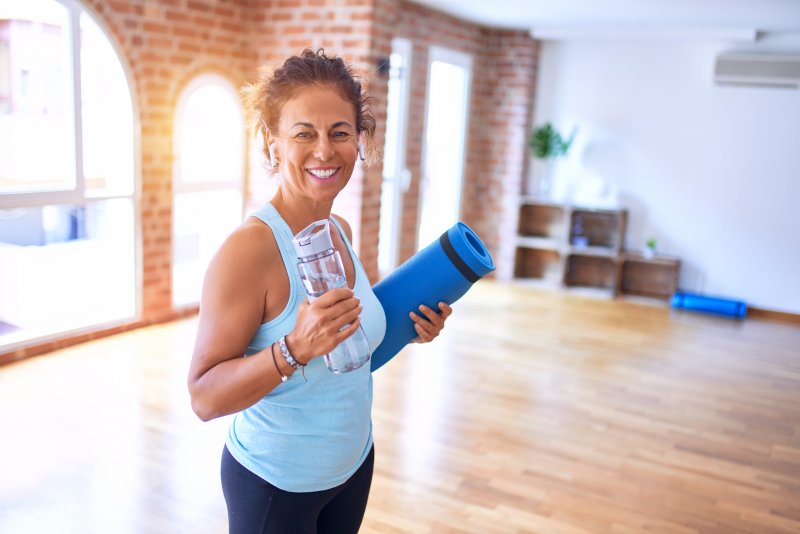 It's a new year soon, so you probably have some New Year's Resolutions — things like learning a new language, improving your job prospects, etc. Whatever else is on the list, though, chances are fitness is a goal too. In that case, you'll need to ensure your physical activity doesn't conflict with your smile. Your teeth could suffer otherwise! Thankfully, your Melbourne dentist can help you. Here's a summary of four helpful tips on safely maintaining physical fitness and oral health.
Wear Protective Gear
If you play sports, you know the value of protective gear. Maybe you wear knee pads or shoulder pads as needed. However, you should also wear items that protect your smile from harm.
Take a helmet, for instance. In activities like bike riding or skating, it'll protect your head and prevent your teeth from breaking. After all, it'll reduce the impact from outside forces with its plastic layer.
Similarly, wearing a mouth guard during contact sports is a good move. The appliance will guard your teeth against player collisions and the like.
Sip Water, Not Sports Drinks
While working out, you might sip on a sports drink to stay hydrated. Unfortunately, that beverage won't do your smile any favors.
Despite their electrolytes, sports drinks are highly acidic and sugary. As such, having many of them can cause cavities, tooth decay, and worse.
For the sake of your pearly whites, you're better off drinking plenty of water. Not only is it sugar-free and non-acidic, but it's also one of the best beverages for your health!
Cut Out the Nutrition Bars
Perhaps you eat a nutrition bar (or two) for energy during weight training. After all, various brands have healthy ingredients like dates, nuts, and raisins. However, these bars are just as bad for teeth as sports drinks.
You see, these "healthy" fitness snacks have lots of sugar. Their texture is also sticky, which increases your risk of tooth decay. With more time to cling to your enamel, they'll do more damage to your pearly whites.
Of course, you don't have to stop eating nutrition bars entirely. Just be sure to brush and floss afterward!
Avoid Mouth Breathing
Like many, you may find it easy to get oxygen for a workout via open-mouth breathing. However, this approach isn't good for teeth. It dries out your mouth and reduces saliva flow. As a result, your oral cavity becomes alkaline enough to cause tartar buildup.
To avoid a dry mouth, opt for nasal breathing when possible. Aside from its oral benefits, it'll help you relax and assist in an efficient recovery.
Ultimately, you can pursue physical fitness and oral health simultaneously. Just make sure to practice the tips above as you do so!
About the Author
Dr. Cedric C. Chenet is a professional dentist based in Melbourne, FL, having earned his DDS from Howard University. He served as a dental officer in the US Air Force for over twenty years and gained hands-on experience in general dentistry. Given this background, his specialties are preventive, cosmetic, and restorative treatments, as well as dental emergencies. Dr. Chenet currently practices at his self-titled clinic and is reachable on his website and by phone at (321)-253-3136.