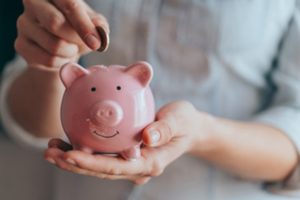 If you have dental insurance, you've wisely chosen to invest in your smile—but it's completely up to you to take advantage of your benefits! After all, visiting your dentist always results in great things for your smile. But did you know that it can also greatly benefit your wallet? Here are three ways how!
1. Prevents Future Staining
If you're a regular coffee fiend, or often consume other items known to contain staining agents, visiting the dentist for preventive care can help! Every time you go in for a teeth cleaning, your dentist wraps up your visit by applying a substance called prophylaxis paste to your teeth—this special substance is capable of breaking apart minor surface stains!
In this way, these visits can help to mitigate future staining, which in turn reduces the potential cost of repeated whitening treatments in the future. Since cosmetic dental work typically isn't covered by insurance, you should make the most of the aesthetic benefits that preventive care has to offer!
2. Detects Hidden Problems
The most important part of receiving regular preventive care is in the name itself—it prevents serious oral health issues from worsening! Without the intervention of your dentist, things like tooth decay, cavities, gum disease, and more can quickly escalate and threaten your oral and overall health!
Not to mention, these problems are all quite expensive to treat compared to the cost of things like fillings, teeth cleanings, and other preventive treatments. To put it simply, visiting your dentist regularly can prevent large, unexpected spikes in your budget due to the cost of unexpected dental care—it's much cheaper to have your teeth cleaned than it is to have them replaced!
3. Utilizes Your Dental Insurance Benefits
If you weren't aware, most dental insurance plans cover the cost of preventive care! This is because routine preventive care greatly reduces the likelihood of serious, costly problems occurring in the future—insurance companies and dentists alike are aware of this!
However, it's worth noting that any unused benefits remaining at the end of the calendar year will not rollover to the next year. This means that it's in your best interest to take full advantage of your plan and schedule those visits, since you've already committed to them.
Your smile is a long-term investment in many ways; spending a little on it now will inevitably save you a lot of money (and trouble) in the future!
About the Author
Dr. Cedric C. Chenet and his team have proudly served the dental needs of the Viera, FL community for several years. Dr. Chenet received his DDS from Howard University and has taken countless hours of continuing education in a wide range of fields including general dentistry, periodontics, prosthodontics, and more. His practice is thrilled to offer a wide range of services, and his team is happy to work with you to ensure that you're maximizing your coverage. If you have any questions about the article or need to arrange a visit, please contact the practice's website or give them a call for assistance: (321) 253-3136.