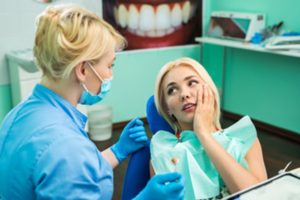 Few things in this world are as aggravating as a toothache! And almost everyone experiences tooth pain now and again—but can these pesky little aches ever become life-threatening? In some cases, the underlying causes for the pain can progress into serious or even fatal problems! Keep reading to learn more from your emergency dentist in Melbourne about toothaches and when they can potentially become deadly, along with some tips for safeguarding your smile.
What Causes Tooth Pain?
Tooth pain is the result of the nerves in your mouth sending signals of discomfort to your brain, and it can happen for several different reasons. Some common explanations include:
Tooth decay & cavities – This is the cause of most toothaches and is triggered by harmful oral bacteria.
Gum disease – Your gums can become swollen and tender as bacteria gets trapped underneath the gum line. If left untreated, it can lead to painful toothaches and other oral health problems.
Wisdom teeth eruption – As your wisdom teeth erupt from your gums, you can experience pain and discomfort.
Fractured Tooth – If you get hit in the face or sustain a facial injury, it might result in a chipped or cracked tooth that triggers mouth pain.
Abscess or Infection – These problems usually result from the previously mentioned issues remaining untreated. When this happens, patients experience severe pain accompanied by swelling and bad breath.
When Can Tooth Pain Be Life-Threatening?
To put it shortly, the pain from a toothache itself cannot kill you—but an untreated infection certainly can, meaning that toothaches can technically be fatal. These infections can easily travel beyond the mouth and threaten other vital areas of the body; your immune system, blood stream, and brain are all at risk. That said, if you're experiencing symptoms that might indicate an abscess or infection, you should contact your emergency dentist immediately and schedule a visit. They will be able to inspect your mouth, determine the root of the issue, and prescribe treatment accordingly. If an infection is present, you'll likely be given an antibiotic to eliminate or reduce it.
Tips for Preventing Painful Tooth Infections
Fortunately, there are also many ways that you can actively prevent serious tooth infections! Consider the following:
Limit your sugar intake by avoiding sweets, starchy items, sodas, and processed foods.
Brush your teeth twice a day for two minutes using a soft-bristled toothbrush paired with a fluoride toothpaste.
Floss daily—flossing is just as important as brushing!
Consider rinsing daily with an antibacterial mouthwash.
Drink plenty of water, opting for tap water when possible (it often has fluoride added to it).
Visit your dentist for regular checkups and cleanings.
Don't smoke or use tobacco products!
Not every toothache will seem serious—but they can have some pretty serious consequences if they remain unaddressed! That said, if you're experiencing a severe toothache, monitor your symptoms and inform your dentist promptly.
About the Author
Dr. Cedric Chenet has proudly served patients and families in the Melbourne area for several years. Dr. Chenet received his DDS from Howard University and has several years of experience in a wide range of fields. His practice is pleased to offer many different services including emergency dentistry. If you or a loved one is suffering from a severe toothache, don't hesitate to schedule an appointment by giving the practice a call: (321) 253-3136.