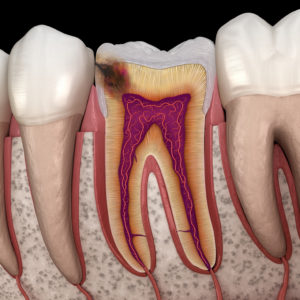 A survey published by the Centers for Disease Control and Prevention in 2016 found that over 90 percent of adults in the nation have had a cavity. When people think about getting cavities, they often imagine opening their mouth and finding a dark splotch on the visible surface of their tooth. While this can be the most noticeable sign of a cavity, sometimes they can be sneakier and form between teeth, hiding from plain view. Read on to learn more about how cavities between teeth develop and what your dentist can do to treat them.
What are Interproximal Cavities?
The term "interproximal cavity" is just a fancy way of saying a cavity that has formed between two teeth. They develop for the same reasons any other cavity does, by harmful oral bacteria that contributes to enamel erosion and eventually causes decay. The sinister thing about this specific oral health problem is that they often go missed and left untreated if the person isn't regularly visiting a dentist, which could lead to worsening issues, like infection.
After the enamel has eroded and the cavity begins eating through the tooth's layers, some people with interproximal decay notice they have sensitivity whenever they eat anything that's sweet, hot, or cold.
How Do Dentists Treat Cavities Between Teeth?
Typically, once someone notices the signs of a cavity, they schedule a checkup with their dentist. During this visit, their dental team will capture digital X-rays that allow them to see the hidden decay and they can determine the severity of it. Depending on the situation, they may recommend a simple tooth-colored filling if the cavity extends more than halfway into the enamel, fluoride treatment if its in its earlier stages, or a root canal if it has reached the inside of the tooth, where the pulp resides.
Can You Prevent Cavities Between Teeth?
Preventing interproximal cavities is like warding off the threat of any other oral health problem. By maintaining a thorough oral hygiene routine, including brushing twice a day, flossing at least once a day, and rinsing your mouth with non-alcoholic mouthwash daily, you'll be able to minimize the accumulation of harmful oral bacteria that lead to cavity development. It's also important to visit your dentist twice a year, so if you do develop a cavity, they're able to spot it in its earlier stages and keep it from progressing.
With help from your dentist, you can maintain all of your natural teeth for a lifetime by preventing common oral health problems like interproximal cavities or getting them treated early on. Preventive care paired with a good oral hygiene routine will allow you to rest-assured that your smile will remain in good health!
About the Practice
At Cedric C. Chenet DDS, PA, we offer the expertise of three highly experienced and caring dentists, Dr. Cedric Chenet, Dr. Derek Chenet, and Dr. Veronica Yu. We're family, so we like to make all of our patients feel the same way when they visit us, and we'll never provide judgmental dental care. To learn more about our preventive services, visit our website or call 321-253-3136.