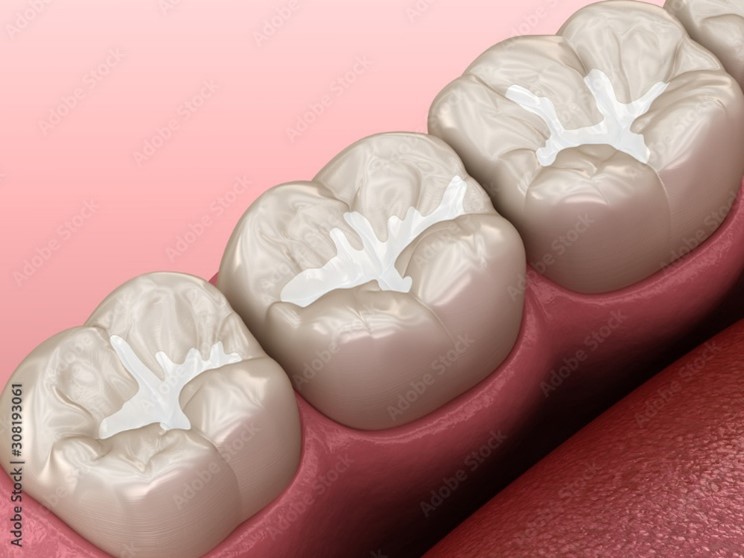 A healthy mouth is a happy mouth! Regular oral hygiene is essential to keeping your smile bright and white and preventing any serious problems from developing. But despite your best efforts, your teeth are still susceptible to decay—especially your molars, as their grooves and crevices can easily trap debris and food particles. However, dental sealants offer a great solution to cover these areas and help prevent cavities from forming! But you might've heard that dental sealants are just meant for children and teenagers. Keep reading to learn more from your dentist about how this solution is just as beneficial for adults.
What Exactly Are Dental Sealants?
Dental sealants are thin coatings of plastic placed along the chewing surfaces of teeth, meant to protect their grooves and curves from bacteria that causes tooth decay. They're usually placed on the premolars and molars, as those teeth are the most susceptible to food particles and debris. The sealants are bonded into the depressions, where they act as a protective shield over the enamel of each tooth. Although this treatment is typically geared towards children and teenagers, it's also used to treat older patients with certain oral issues.
How Can Dental Sealants Help Adults?
Dental sealants can offer many benefits for adults, including:
They reduce the risk of tooth decay – With good oral hygiene, dental sealants can last for up to 10 years. That means 10 years of added protection against tooth decay! Regularly visiting your dentist and brushing daily will ensure that they retain their integrity.
They help prevent cavities – Early signs of tooth decay can easily progress into a cavity, but a sealant can be applied to prevent this. Since sealants are also typically clear, your dentist will be able to monitor the tooth and ensure the sealant is working properly.
They enhance the appearance of your smile – Sealants make your cleaning routine a little easier; you won't have as much trouble keeping your teeth clean and free of debris, which in turn will enhance the glow of your smile. Less oral bacterium also means less plaque buildup and tooth discoloration!
They combat aging – As you age, your enamel gradually wears down. This increases the risk of an oral health problem occurring, but sealants can directly combat this by enhancing and protecting your teeth.
Being older doesn't disqualify you from receiving dental sealants! They're a suitable and effective solution for all ages and can provide your teeth with added protection from tooth decay and other oral health problems. Talk with your dentist if you think dental sealants are a viable answer for your smile.
About the Author
Dr. Cedric C. Chenet received his dental doctorate in 1982 from Howard University before serving as a dental officer in the US Air Force. In 2002, he opened his practice in Melbourne and has served patients and families in the area ever since. His practice is proud to offer a wide range of dental services including general, pediatric, restorative, cosmetic options and more. If you have any questions about dental sealants or would like to schedule a visit, you can contact Dr. Chenet through his website or by phone: (321) 253-3136.