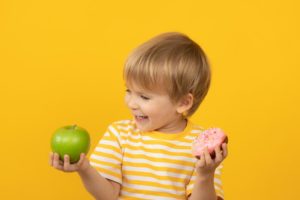 A lot of children develop habits that put them at risk of developing cavities. Fortunately, there are steps you can take at home to help them protect their smile, and they will work for you too. Definitely schedule biannual checkups and cleanings with their pediatric dentist in Melbourne, plus learn about home remedies to reduce plaque accumulation and defeat cavity-causing bacteria.
Make Sure They Have Access to Water
The best possible drink for your child is water. Even though milk and juice have some health benefits, they also contain sugar which feeds the harmful bacteria in their mouth. It may require some getting used to, especially if your child is accustomed to drinking other beverages throughout the day but stick to giving them water as much as possible. As an added benefit, most communities fluoridate their topwater, which means your child could get an extra boost for their teeth.
Cut Down Their Consumption of Processed Foods and Snacks
Everyone knows sweets like candy can lead to your child developing cavities. Also, crackers, cookies, chips, bread, and other starchy, processed foods can stick to their teeth and form plaque. As your child gets older, limit the amount of snacking they do throughout the day. When they do snack, choose healthier foods like whole grains, apples, or carrots.
Keep Their Sugar Consumption Low
Sugar may give your child a short-term rush of energy, but it also fuels the bacteria that cause cavities. Every now and then, a sweet treat is fine but try to keep their sugar intake to a minimum. When they do indulge in something sugary, try to time it close to mealtime when they are already producing more saliva which helps to neutralize acids and flush away bacteria. This timing also reduces the likelihood of overindulging in sweets.
Utilize Natural Remedies to Prevent Cavities
Although more research is needed, some studies have shown certain foods or drinks can help prevent decay. These include shiitake mushrooms and oil pulling, which involves swishing sesame or coconut oil in your mouth and spitting it out. Cheese, yogurt, and other foods that are high in vitamin D are also beneficial to reinforce enamel and stop decay.
Promote Daily Brushing and Flossing
Early on, it's pivotal to help your child begin the habit of brushing and flossing their teeth every day. These actions may seem inconsequential at first glance, but they remove the bits of food and sticky plaque before it hardens and damages teeth. Use fluoride toothpaste to further strengthen your child's enamel. You can make this time more fun for your child by listening to music while they brush or using an app like Disney Magic Timer, Toothsavers, or Chomper Chums.
The last thing any parent needs to worry about right now is dealing with their child's toothache or cavities. Although these tips won't substitute for going to the dentist regularly, you can have a huge impact on keeping their teeth healthy and strong, so they have something to smile about!
About the Author
Dr. Cedric Chenet earned his dental doctorate from Howard University and then served as a dental officer in the U.S. Air Force. Shortly after honorably retiring as a lieutenant colonel, he opened his private practice in Melbourne. If you are looking for a pediatric dentist to trust with your child's smile, he is ready to help with anything from a tooth-colored filling to a dental checkup and cleaning. You can schedule an appointment on his website or by calling (321) 253-3136.