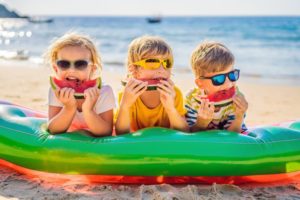 After waiting all year for your summer vacation, the last thing you need is a family member getting a toothache or breaking a tooth. You'd have to take time away from relaxation and worry about finding the right care for your loved ones and relieving their pain. While some dental emergencies are unavoidable, there are several precautions you can take to reduce your family's risk. Here are five easy things you can do to prevent dental emergencies from ruining your summer vacation.
Enforce Pool Safety Guidelines
Taking a dip in the pool is refreshing, but swimming pools also carry a high risk of dental injuries. It's all too easy for kids to break or loosen a tooth by hitting the concrete ledge of the pool while swimming. Not to mention, diving into shallow water and running on a slippery pool deck are accidents waiting to happen. Make sure your little ones follow pool safety rules to keep their smiles safe.
Get a Mouthguard
Another common cause of dental emergencies is injuries while playing sports. Wearing a mouthguard can dramatically decrease the chances of broken teeth, knocked-out teeth, or busted lips, especially when playing contact sports like football. Consider getting a professionally made mouthguard from your dentist for even greater protection.
Pack a Dental Emergency Kit
If an emergency does strike, it's best to be prepared. Create a dental emergency kit – or several – and include these items:
Your dentist's contact information
Saline solution
Gauze
Handkerchief
Tiny container with a secure lid
Latex-free gloves
Offer Healthy Snacks
It's hard to resist the temptation to indulge in sugary snacks all vacation long. While fine in moderation, these foods can lead to tooth decay if consumed in large quantities. Make sure to stock up on mouth-healthy items like yogurt, cheese, and fresh fruits and vegetables.
Keep Up with Your Oral Hygiene Routine
Just because the kids are out of school doesn't mean they can skip flossing daily and brushing their teeth every morning and every night. Not maintaining these habits could lead to painful cavities. Before you leave for your vacation, don't forget to buy everyone in the family a new toothbrush, toothpaste, and floss to pack in their suitcases.
Don't let a dental emergency ruin the fun this summer. Follow these tips to ensure all of your loved ones' smiles remain healthy and bright all summer long!
About the Author
At Chenet Dental, our experienced dentists are always ready to provide fast, effective relief for dental emergencies. In addition to offering a comprehensive array of dental services in-house, we have early-morning and late-evening appointments on Tuesdays and Thursdays. However, we strive to prevent dental emergencies as much as possible b educating our patients. If you or someone in your family needs an emergency dentist in Melbourne, FL, or would like to schedule a preventive appointment to reduce your risk, don't hesitate to contact our team at 321-253-3136.