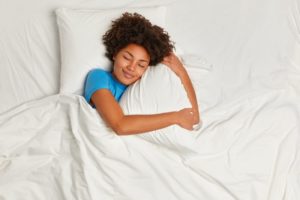 You may know that the foods you eat can affect your oral health, but your diet can surprisingly impact your sleep—both positively and negatively. Of course, this is a big deal if you have sleep apnea because you want to give yourself your best chance at restful sleep each night. But what foods should you avoid? Are there any items that can help you catch some more Zzz's? Read on to learn the answers!
Friendly Foods
You can try working these tasty and healthy items into your diet for a better night's sleep:
Fruits & Veggies
Low in calories and also rich in nutrients, fruits and veggies are great substitutes for sweets like candy and cookies. The fiber in fruit helps keep you feeling fuller for longer, preventing you from overeating. Obesity is both a risk factor and symptom of sleep apnea, so eating fruits and veggies will help in two ways (just avoid bananas—you'll get an explanation on this shortly)!
Whole Grains
Just like fruits and veggies, whole grains are full of fiber, allowing you to avoid snacking on unhealthy treats. Breads and cereals have a variety of whole grain options, which will help keep your weight down to prevent obesity.
Tart Cherry Juice
It may sound strange, but cherry juice is great for sleep! Tart cherries are one of the best food sources for the hormone melatonin, which controls your sleep cycle. Some studies have shown that drinking a 16oz glass of tart cherry juice twice a week can extend your sleep time.
Foods That Are Foes
There are some foods that you should try to avoid at all costs to give yourself the best chance at a good night's rest, including:
Bananas
While most fruits are great for your sleep schedule, bananas are a serious exception. They increase the production of mucus, which can make breathing more difficult while you sleep. Keep in mind that the softer and riper the bananas are, the more likely they may give you trouble sleeping.
Dairy Products
Heavy cream, whole milk, cheddar cheese, and other dairy products increase mucus production, making it thicker. This makes it easier for the airway to become obstructed, leading to exacerbated sleep apnea symptoms.
Caffeine
You may enjoy reaching for your cup of coffee in the morning to wake up and get productive, and that's okay! However, avoid drinking coffee or any other caffeinated beverages after 2pm if possible. Any later, and the stimulant may keep you up or cause restlessness.
For many people with sleep apnea, a great night's rest starts at mealtime. Just remember the friendly foods as well as your foes to get back to counting sheep with ease.
Meet the Dentist
Dr. Cedric Chenet is a dentist with nearly four decades of experience who offers everything from dental implants to sleep apnea treatment. He understands the relationship between your oral health and your sleep, which is why he provides custom-made oral appliances for sleep apnea. If you have any questions, Dr. Chenet can be reached through his website or by phone at either of his Suntree-Viera or Downtown Melbourne locations.