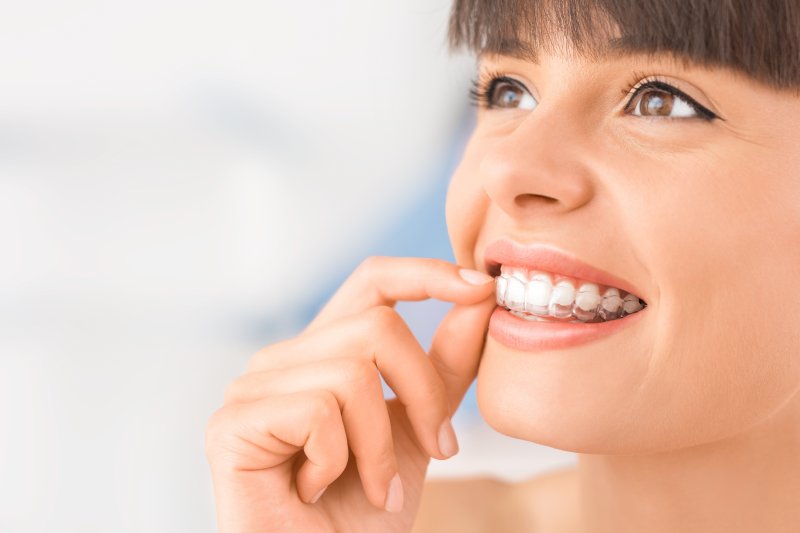 Patients looking to straighten their teeth with Invisalign in Viera often have one important question: Does the treatment hurt? After all, the clear aligners bypass pesky wires, don't rely on metal brackets, and are custom made to seamlessly fit your smile.
As with any orthodontic treatment, you can expect some discomfort from the trays guiding your teeth into their new position. However, many patients share simply feeling a slight ache when starting a new set of aligners. If you experience something similar with each new phase of treatment, try using the below remedies!
#1. Use a Cold Compress
As your teeth shift into their new position, the tissue in your mouth may feel sore or swollen. Fortunately, you can combat both of these unpleasant side effects with a cold compress! By applying it to the outside of your cheek, you can constrict the blood vessels and effectively reduce any pain. In fact, some dental teams recommend using this trick before you put your new trays in to ease the discomfort.
#2. Use Orthodontic Wax or Invisalign Chewies
Do you have orthodontic buttons or attachments? They play a crucial role in delivering jaw-dropping results, but they can also scratch your lips or irritate your gums. To prevent this from occurring, you can ask your dentist for orthodontic wax, which can be applied to the area and stop the sharp surfaces from causing further damage. If the soreness is a result of loose trays, then biting down on some Invisalign chewies will do the trick! That way, you can eliminate the airspaces and fit the aligners snugly against your teeth.
#3. Avoid Hard or Crunchy Foods
One perk of Invisalign is that patients can easily remove their trays to brush their teeth, drink, or eat. However, opting for hard or crunchy foods, like tortilla chips, can further irritate your teeth and gums. As your teeth adjust to the new aligners, stick to soft items instead.
#4. Switch to New Aligners Before Bed
If each set of new trays is resulting in discomfort, then consider starting every new phase at night. After all, many patients report only feeling soreness for the first two or three hours. By implementing this tip, you can get through this part as you doze!
Your journey to your perfect smile may come with some discomfort. However, it is important to remember that soreness means your treatment is working! If your pain persists after implementing the above tips, then talk to your dentist right away.
About the Author
After completing his D.D.S. degree at Howard University in 1982, Dr. Cedric Chenet served as a dental officer in the U.S. Air Force. In 2002, he honorably retired and built a dental practice around high-quality dentistry, world-class care, and the latest technology: Chenet Dental! Today, he helps patients achieve their smile goals with a number of cosmetic treatment options, including Invisalign. If you are looking to straighten your teeth, don't hesitate to visit his website.