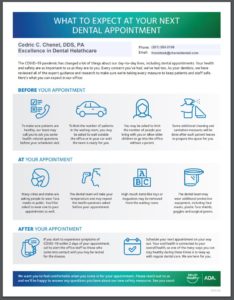 We can't wait to see you soon. Oral health is a gateway to your overall health, and your health is our top priority. As you might have imagined, things will be a little different this visit. To keep you safe and smiling, our practice is adhering to the American Dental Association's guidance for providing dental care during the COVID-19 pandemic.
Here's what you can expect:
All of this is done with your health as our utmost priority. You can rest assured that we are taking every precaution to ensure that our office is optimized for maximum safety. Please feel free to contact us with any questions or concerns you have about your visit.
We look forward to seeing you!