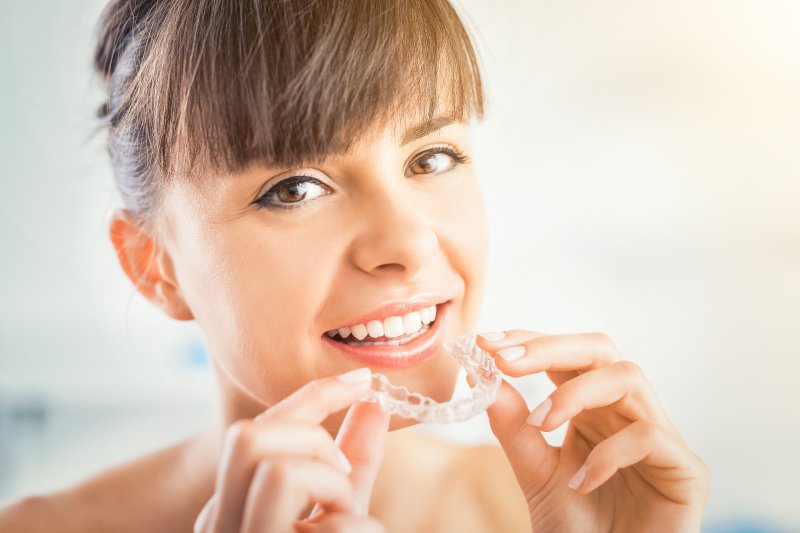 When Invisalign was first introduced back in 1999, it revolutionized the teeth-straightening industry. Instead of clunky brackets and metal wires, patients could opt for clear aligners that were both highly effective and virtually invisible. Since then, over 8 million patients across the world have used Invisalign to craft their perfect smile (including celebrities like Oprah Winfrey, Tom Cruise, and Justin Beiber!). However, the undetectable trays aren't the only reason Invisalign holds a whopping 96% satisfaction rate. Read on for five non-cosmetic benefits of Invisalign in Viera.
Say Hello to Removable Braces
With traditional braces, a semi-permanent bonding agent is used to adhere the brackets to your teeth. While this effectively moves your teeth into the desired location throughout treatment, it also means that they can only be removed by a dentist. However, the same cannot be said about Invisalign. Although patients are required to wear them for at least 22 out of the 24 hours of the day, they can be removed while eating, drinking, and brushing. So, you have the freedom to remove them with ease without compromising your treatment!
Wave Goodbye to Pesky Food Restrictions
The wires and brackets involved in metal braces play a crucial role in delivering a beautiful, straight smile. However, they are also prone to breaking, which is why patients are given a long list of food restrictions to abide by throughout their treatment (i.e., no gum, apples, etc.). However, since Invisalign's clear aligners are removable, you can wave goodbye to pesky food restrictions!
Get Straight Teeth by This Time Next Year
For patients with misaligned teeth, the thought of going through two years of treatment is enough to convince them not to move forward. While 18 to 24 months is the average length of time patients wear traditional braces, Invisalign takes only 12 months on average. Plus, many patients report seeing improvements to their smile in as little as three months!
No-Fuss Oral Care Routine
Metal braces come with complex flossing routines and diligent scrubbing around each bracket. Conversely, Invisalign's clear aligners allow patients to continue their oral care routine before, during, and after treatment without any interruptions. To effectively brush, floss, and clean your teeth, all you must do is pop them out, rinse them off, and place them back in once your dental hygiene regimen is complete!
Avoid the Discomfort of Traditional Metal Braces
Between tightening appointments, irritating brackets, and hard wires, traditional braces can quickly become uncomfortable to wear. While any teeth-straightening process is bound to have some discomfort, Invisalign's clear aligners are custom made to fit your teeth and gums. This avoids the discomfort patients often report about irritation to their gums and the inside of their cheeks from the metal components of traditional braces.
For over two decades, Invisalign has remained one of the top teeth-straightening options for patients looking to upgrade their smile. If you want to join the millions of people who received the effective treatment they needed with all of the above benefits, then talk to your dentist about using Invisalign today!
About the Practice
From routine cleanings to completely customized smiles, the team at Chenet Dental is ready to help with expertise and technical skill that is second to none. Led by Dr. Cedric Chenet, Dr. Derek Chenet, and Dr. Veronica Yu, each member of the staff is united by a mission to deliver customized care, comprehensive exams, quality treatments, and thorough explanations. If you would like to speak with their team about using Invisalign to straighten your smile, please visit their website or give them a call at 321-253-3136.