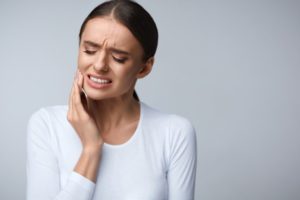 If you're like millions of Americans, you may have at least one dental crown in your mouth. These restorations are durable, lifelike, and functional. However, there is a possibility that they can break if dental injury occurs. During the uncertain time of COVID-19, what should you do if your dental crown is broken? Can you still get treatment from a dentist? Keep reading to learn the smile saving answers.
But First, What Causes a Crown to Break?
Dental crowns cover the entire visible portion of your teeth, which is why they go through the same wear and tear as the rest of your smile. There are certain risks that can cause your crown to fracture or come off completely, including:
Nighttime teeth grinding that can weaken the dental crowns
Physical activity, sports, or injury like a fall
Improper dental hygiene
Chewing on hard or nonfood items
Your Next Steps During COVID-19…
If your dental crown breaks or falls out, there is no need to panic. While dentists are closed during this time, they are still available to treat dental emergencies to get you out of pain. Try to pick up any pieces of your restoration, or the crown itself, before storing it in a safe place. You can use gauze for bleeding and a cold compress to numb the pain.
When a crown is broken or lost, it can expose the inner, more sensitive parts of the tooth. This can be painful, but there are some steps you can take to make yourself comfortable before seeing your dentist. Dental cement found at your local drugstore can be placed on the area to repair and reattach the crown. This will protect you from sensitivity. However, you can also use sugarless gum if you're in a bind. After, it's imperative to call your dentist immediately for a proper restoration.
How You Can Safeguard Your Smile
While it's difficult to completely prevent broken crowns from ever happening, there are some things you can do to minimize your risk. Primarily, be careful about what you use your teeth for during this uncertain time! Don't open any packages, bottles, or other items with your smile, or you may end up with a lost/fractured crown. You should also wear a nightguard if you are prone to grinding while you sleep. Additionally, don't forget to brush your teeth twice a day and floss once to remove plaque and bacteria from the mouth.
If you damage or lose a crown during COVID-19, don't worry. Just remember this information and contact your dentist right away to get out of pain and back to smiling.
Meet the Dentist
Dr. Cedric Chenet understands the uncertainty and anxiety his patients are facing during this time. That's why he has provided some easy tips for safe smiles, and he is ready with treatments like CEREC same-day crowns and tooth saving root canals in the event of an emergency. If you have any questions, he can be contacted through his website or by phone at (321) 253-3136.