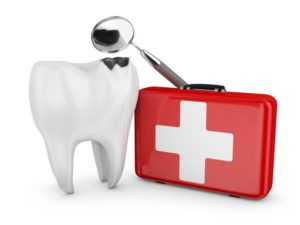 You're just weeks away from your routine dental checkup and cleaning appointment. But with the threat of COVID-19, dental practices around the country have temporarily closed—except in cases of emergency or urgent dental care. But how do you know if what you're experiencing qualifies as a dental emergency? When should you contact your emergency dentist near Viera? In this post, you'll learn four clear signs that your problem needs immediate attention.
You're in Pain
Pain is the body's way of letting you know that something is wrong. If you experience dental discomfort, you shouldn't ignore it. Instead, floss around the affected tooth to make sure that no debris is stuck between your teeth. If the pain persists, it's time to call your dentist and take an over-the-counter pain medication to manage your discomfort. You can also use a cold compress to reduce any swelling you may have until you're able to get help. In many cases of tooth pain, a root canal may be needed to remove the infected tooth structure and pulp. Even if your dental pain or soreness is a result of third molars or a dental injury, please seek immediate professional help.
Your Tooth Is Mostly or Completely Knocked Out
An impact to the face can make your teeth feel loose or even knock them out completely. In these situations, time is precious, so it's important to seek treatment as soon as possible. In fact, your best chances of saving the tooth depend on seeing your dentist within one hour so that they can reposition the tooth and apply a splint. Just make sure you handle the tooth touching the crown, not the root, and store it either in your mouth or in a container of milk to keep it alive until you reach the dentist's office.
A Restoration Comes Out
Although a lost filling or crown may not initially seem urgent, it leaves the tooth exposed and vulnerable to decay. Until you are able to see your dentist, you should rinse your mouth and restoration and use dental cement, which can be found at any drug store, to reattach the filling or crown. Keep in mind that this temporary solution is only a band-aid fix, and you still need to contact your dentist as soon as possible for an emergency appointment to prevent further infection.
You Have an Abscess
An abscess is a pocket of collected pus in the soft tissues of your mouth, particularly the gums. These are often, but not always, sensitive or painful to the touch, but they almost always indicate a serious infection in a nearby tooth. Your dentist can prescribe treatment to resolve the abscess and take care of the cause of the problem, whereas physicians can only prescribe antibiotics to help in this situation.
In the coming weeks, when access to normal, routine services may be limited, make sure you do your best to maintain your oral health until your dentist's office opens up again. However, if you have a bigger issue come up, your dentist is still available for urgent care when you need them most.
About the Practice
Founded in Although Cedric C. Chenet, DDS, PA is temporarily closed due to COVID-19, Dr. Cedric Chenet, Dr. Derek Chenet, and Dr. Veronica Yu are still able to see patients for emergency and urgent dental care. If you have questions about how to handle dental emergencies, or if you need to schedule an urgent appointment with one of our dentists, you can call (321) 253-3136 or click here.