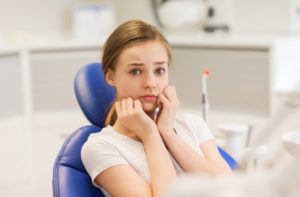 Root canal. The very mention of the phrase makes you shutter. It carries with it a negative connotation of pain and misery while sitting in your dentist's chair. But would you believe that root canal therapy is actually a good thing? It's actually a conservative dental treatment that saves your tooth from needing to be extracted completely. So why do root canals have such a bad reputation? Certain myths surround this procedure, causing fear and dread. For Root Canal Awareness Week this week, take some time to learn these four facts about getting a root canal in Viera.
Root canal therapy is basically painless.
Most people associate root canals with pain, but truth be told, the most painful part of the root canal procedure itself is when the local anesthetic is administered—just like getting a cavity filled. You don't feel anything during the procedure and are completely comfortable while your dentist in Viera resolves the problem.
Bacteria and exposed nerves are responsible for the pain, not root canals.
So where does the connection between root canals and pain come from? Well, your tooth actually has three layers, the innermost of which is the pulp, where the nerves are located. When those nerves become agitated through injury or cracks, they become exposed to bacteria and send a painful signal to your brain. Also, if tooth decay has penetrated to the pulp, you can experience a lot of discomfort. In these scenarios, getting a root canal is the solution you want.
Root canals actually relieve pain.
Believe it or not, root canal therapy takes away the pain and restores your tooth to full health. During this procedure, your dentist removes all the infected portions of your tooth, including the nerves, and ensures that what remains in clean and bacteria free. Then they seal the tooth to prevent future decay or infection. Finally, they either place tooth-colored fillings or a dental crown for an aesthetically pleasing look, giving you back your smile's strength, function, and beauty.
Root canals save natural teeth.
You only get one set of permanent teeth, so it's important to try to preserve the ones you have. Root canal therapy allows you to do just that. Without it, the alternative is extraction, which may seem like a brilliant idea when you're still pain but should only be used as a last resort. As advanced as tooth replacement options have become, nothing substitutes for everything that your natural tooth can do. Getting a root canal allows you to keep your natural tooth for as long as possible.
You don't have to be afraid of root canals. In fact, when you're suffering from the agony of having a decayed or broken tooth, you can look forward to the relief that a root canal will bring you. If you've been putting off seeing the dentist for a decayed tooth, don't wait! An untreated cavity can develop into much more serious problems with permanent consequences. Get help now with a root canal and enjoy your natural teeth for many years to come.
About the Practice
At Chenet Dental, dental care is a family affair. With over 30 years of dental experience, Dr. Cedric Chenet is joined by his son, Dr. Derek Chenet, and his daughter-in-law, Dr. Veronica Yu, giving patients from the Melbourne, Rockledge, Viera, Suntree, Satellite Beach, and other areas unmatched dental care with a family-friendly setting. To schedule an appointment with them, call (321) 473-6575 or click here.