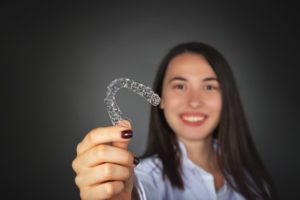 Your teeth are crooked, and you've wanted to address it for a long time now. Straightening your teeth will not only give your self-confidence a boost but also make keeping your teeth clean and healthy much easier. When considering your treatment options, you wonder whether you should choose traditional braces or a more modern approach like Invisalign in Viera. They each have their advantages and disadvantages, and deciding between the two can be difficult. Well, to help in your determination, here are five signs that Invisalign might just be the right solution for you.
You don't want unappealing metal braces.
The whole point of straightening your teeth is to improve the confidence you have in your smile. And yet, the traditional method of treatment includes bulky metal brackets and wires covering your teeth. With Invisalign, you can maintain your appearance with clear alignment trays that others will barely notice. That way, your self-esteem doesn't have to take a hit during your treatment.
You want fast results.
When you straighten your teeth with traditional braces, treatment can last for up to three years. In contrast, you only need to wear Invisalign aligners for about half that time. Also, Invisalign entails fewer appointments with your dentist than metal braces, saving you time that you could use doing other things.
You want the freedom to eat what you want.
As soon as the metal braces are placed on your teeth, you get a list of foods you're not allowed to eat. But with Invisalign, there are no food restrictions because what you consume doesn't impact your treatment. You simply remove the alignment trays before you eat and drink anything that isn't water, and then brush and floss your teeth before putting the trays back in afterward.
You want easier oral care.
Negotiating around the metal brackets and wires can make brushing and flossing your teeth extra challenging. As a result, you're more likely to leave food and plaque behind, which can cause problems like tooth decay or gum disease. On the other hand, taking care of your teeth is simple with Invisalign. After removing the aligners, you can brush and floss your teeth as usual.
Your dentist recommends it.
In the end, the best way to know whether you're a candidate for Invisalign is through a consultation with your dentist in Viera. They can review your specific case and provide personalized advice. Then, if you do decide to move forward with Invisalign, they can create a customized treatment plan just for you so that you get the best results possible.
If you find that these signs are true for you, then you can know that Invisalign is the treatment that will deliver the straight smile you've always wanted. You deserve to feel proud of how your teeth look, so what are you waiting for? Get started with Invisalign by talking with your dentist today!
About the Author
Dr. Cedric Chenet has over 35 years of dental experience. He and his staff offer Invisalign to help patients who want to straighten their teeth without metal braces. At his practice, he is joined by his son, Dr. Derek Chenet, and his daughter-in-law, Dr. Veronica Yu, enabling them to serve more families in the Viera area. To schedule an appointment with them, you can call (321) 253-3136 or click here.