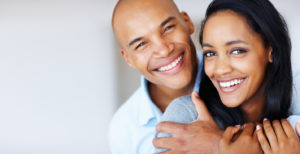 Do you want to make improvements to your smile? It may be difficult to find a dentist you trust to help you reach your goals. You don't want a dentist that adjusts your teeth to be too white and perfect that anyone can tell you've had work done. In the same breath, you don't want a dentist that is careless about his or her work, leaving you seeking further treatments. Good news! You've come to the right place: the dental practice of Dr. Cedric C. Chenet, the top choice of Suntree and Melbourne cosmetic dentist. If you want beautiful teeth that realistically fit your face, we can help with our cosmetic treatments and procedures. We love helping our patients find the best solution for them to boost their confidence and achieve the smile of their dreams.
Gain More Than a Beautiful Smile with Dr. Chenet
These days it can be overwhelming to find a cosmetic dentist Suntree or Melbourne who offers traditional service values, the latest technology, and a passion for the creativity that dentistry poses when cultivating new smiles for patients. Because Dr. Chenet does this personally for every patient wishing to improve their teeth, each dental experience not only improves their dental health, but helps them feel more confident in themselves and their positive dental experience in our office.
Oral Health Improvements
When you choose to invest in fixing the flaws in your smile, you'll not only be assured before your cosmetic treatment that your dental health is up to par, but you'll most likely keep up with it! Your initial investment and impressive results will have you obsessed with maintaining your gorgeous teeth—which is great for your oral health!
Mental Health Improvements
If you have missing teeth, discolored teeth, or misaligned teeth, it can be embarrassing to smile. You can begin to feel mentally exhausted from always holding back in social settings and not reaching your full potential. After all, you know that your smile is one of the first things that people notice about one another. Once you receive our cosmetic dental work, your outlook on life will improve as you begin to smile with confidence again.
Cosmetic Services to Choose From
Dr. Chenet offers a variety of procedures that can improve the overall quality of your life. Our cosmetic procedures treat dental issues that range from tiny imperfections to complete smile makeovers. Here are some of our most popular treatments and procedures, although we have much more you can discuss with Dr. Chenet during your cosmetic consultation.
Porcelain Veneers & Lumineers
If you're looking to cover multiple flaws in your smile at once, dental veneers may be perfect for you. Our dental veneers—either porcelain veneers or Lumineers—are thin layers of high-quality dental materials that fit over the front of your teeth to cover chips, cracks, discoloration, gaps, and more imperfections. These are sometimes even referred to as instant orthodontics because they not only improve the overall color and shape of your teeth, but they can also close the gaps between your teeth! If you're looking for a permanent solution to improve your imperfect smile, look no further. Discuss with your dentist the differences between the two and which may be best for you during your consultation.
Teeth Whitening
When it comes to creating bright smiles, our professional-grade teeth whitening delivers results! Genetics, poor oral hygiene, and even the foods and drinks you enjoy can change the color of your teeth. Despite the reason why your teeth have been stained, our dental practice has two awesome solutions that can help our patients love their smile again: in-office Zoom! and take-home teeth whitening treatments.
Schedule Your Cosmetic Consultation Today!
If you've considered improving your smile, contact the office of Cedric C. Chenet, DDS, PA. Whether you want to brighten your teeth, straighten your smile, or combine treatments for a complete smile makeover, we have the services you've been looking for.