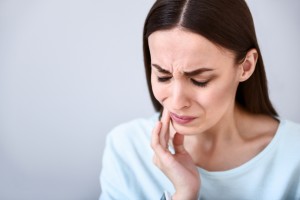 Your sister's text message took you by surprise, although it really shouldn't have. As a lifetime 2-pack-a-day smoker and avid drinker, her lifestyle surely made her a candidate for oral cancer. Still, receiving the message that she'd been recently diagnosed was disheartening. Luckily, your sister's dentist was able to recognize the signs of the disease by performing an oral cancer screening during her regular dental appointment.
Dr. Cedric C. Chenet can help patients just like this one every time a patient visits his office. During each dental appointment, your Melbourne dentist will perform an oral cancer screening.  Our office understands that awareness is the first step to prevention, so we put together this article to recognize oral cancer awareness month.
Oral Cancer: The Facts
Did you know that 49,760 people will be diagnosed with oral cancer this year just in the United states alone? Or that 132 patients will be diagnosed with the disease each day. Even bleaker, the fact is that 1 person will die every hour, every day, 365 days a year due to oral cancer.
These figures are stark and show that too many loved ones' lives are cut short or dramatically altered because of the impact that oral cancer leaves. In most cases, the cancer cells are detected in its late stages, resulting in a high death rate. 40% of those diagnosed in its late stages die within 5 years. In contrast, early detection has a survival rate of up to 90%! Recognizing the signs early on is critical to stopping the progression of the disease.
Oral Cancer Screenings Every Cleaning Appointment
Whether we're preforming a semiannual cleaning or filling a cavity, your dentist and dental hygienists at the Office of Cedric C. Chenet, DDS are on the front line when it comes to keeping you and your family's oral health up to par. There are a couple ways that our dental team helps to increase awareness and educate our local patients.
Screen Patients Regularly
Dr. Chenet provides oral cancer screenings during every cleaning appointment. Our dental office wants to make sure that we are giving our patients what they need and the dental care that they deserve. Both the American Dental Association (ADA) and American Dental Hygienists Association (ADHA) recommend that dental professionals always perform routine visual and tactile examinations during all patient appointments. Research has shown that only 29% of patients had been screened for oral cancer during their last checkups and more patients—actually 81%–prefer to be screened every dental visit.
Discuss Oral Cancer Risks
Most patients don't take the time to research diseases or potential health problems unless they feel like they're at risk for them. Our office wouldn't want you to continue to live in bliss if your lifestyle is making you a high-risk patient. During your dental appointment, your doctor will stress the importance of keeping your dental appointments and eliminating tobacco and excessive alcohol use. By following these simple steps, you could dramatically improve your overall health, especially in your mouth.
Visit Your Melbourne Dentist
Our team takes this threat seriously. We provide screenings as a vital part of your regular checkup. Dr. Chenet will thoroughly review the oral tissues in your mouth, head, and neck area for signs of oral cancer that you may not be able to see with your blind eye to dentistry. If our team notices anything suspicious, we can discuss the next steps to getting you a concrete diagnosis.
Contact Dr. Chenet today to schedule your next appointment and stay two steps ahead of oral cancer.