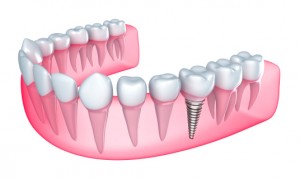 Whether you've recently lost one tooth or have been missing teeth for a while, now is the time for tooth replacement. You need a full set of teeth not only for the sake of how you look to others, but also for reasons of oral and general health. Missing teeth make other oral health concerns such as tooth decay and gum disease a greater risk. Moreover, your overall well being may suffer if you're unable to eat a well balanced diet. Dental implants are often the ideal solution for tooth loss. For tooth replacement with dental implants in Melbourne, contact the office of Dr. Cedric Chenet. He can place the implant and attach the appropriate tooth restoration.
What is a Dental Implant?
In simple terms a dental implant is a prosthetic that substitutes for both the root and crown of a missing tooth. Each implant can actually be divided into thirds: the implant that is surgically embedded in your jawbone, the abutment that connects the implant to your tooth restoration, and the porcelain crown, bridge or denture that replaces the visible portion of a tooth.
The Benefits of a Dental Implant
Unlike other tooth replacement options that rest on top of your gums, a dental implant is securely anchored in bone tissue. This provides a couple of benefits. First of all, you'll never have to worry about a prosthetic loosening, slipping or even falling out of your mouth. As long as you attend to proper oral hygiene that keeps your gum tissue healthy, you can rest assured that your implant will last a lifetime.
Secondly, a dental implant helps you maintain a healthy jaw—and a healthy jaw means a more youthful appearance. Without a tooth to stimulate healthy new tissue growth, bone begins to deteriorate. When this happens, you jaw can begin to change shape, giving you a sunken facial appearance.
Candidates for Dental Implants
Most people can have dental implants, but there are some prerequisites. As mentioned above, the implant is surgically embedded in bone. Therefore, you must have enough bone density to securely hold the implant in place. Dr. Chenet will carefully examine x-rays to determine whether or not you have the bone volume necessary to secure an implant. If not, then a bone grafting procedure may be recommended.
People with dental implants must also be willing to follow a stringent oral hygiene routine at home and commit to six-month dental checkups with Dr. Chenet. Strong dental implants are dependent on healthy teeth and gums. Infection here can seriously threaten the integrity of your implants with a condition called peri-implantitis, which can cause them to fail and necessitate extraction.
Call Our Office Today
If you have missing teeth, schedule a consultation with Dr. Chenet. He will be able to advise you on tooth replacement with dental implants.